Jennifer Lawrence claims she made people *uncomfortable* with her nudity on the set of "Red Sparrow"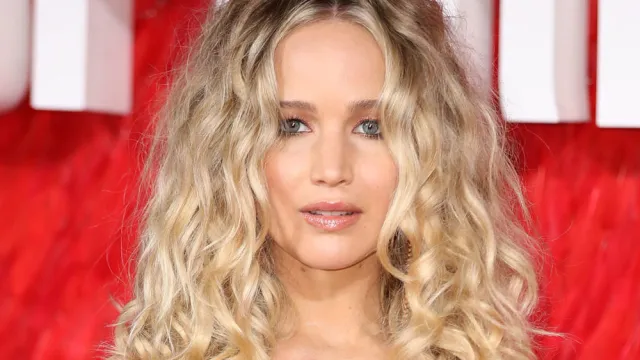 After intentionally avoiding overtly sexual roles for the past few years, Jennifer Lawrence has said her decision to strip down for nude scenes in her upcoming thriller Red Sparrow left her "feeling empowered." And now, Lawrence is saying those scantily-clad shoots might have left her costars and crew feeling something else: totally awkward.
In a recent roundtable, Jennifer Lawrence said there's a chance her stripping down (and loving it) may have made things a little uncomfortable for everybody else on the Red Sparrow set. The actress initially described the idea of taking her clothes off in front of a classroom of actors for a scene as a "nightmare [come true]."
Eventually, though, Lawrence decided she didn't mind all that much.
"There's one particular scene in the movie where your nightmare comes true from grade school, where you're standing naked in front of a classroom full of people. So that became a reality, but it actually wasn't that bad," Lawrence told Entertainment Tonight. "Everybody made me feel so comfortable that I probably at a certain point started making everybody else uncomfortable."
We get it. As strange as being naked in a room full of people must feel, there also has to be something kind of liberating about it, once you get over the initial weirdness.
And it sounds like Lawrence fully embraced it.
"I'd be like, 'I don't want the robe. I'm hot. I'm eating.' Everybody's like, 'She needs to cover up,'" she said.
So the nudity didn't end up being a problem for Jennifer Lawrence, but she did talk about some other areas of discomfort the movie stirred up.
In Red Sparrow, she plays a ballerina, so there was some internal doubt about whether she'd be able to pull that off (um, Jen, have you seen yourself in Silver Lining's Playbook? You've got moves, no worries). The thought of doing a Russian accent to play her character, Dominika Egorova, was also intimidating, and understandably so. Lawrence says she's purposefully avoiding the topic of the accent until the movie comes out so she can prepare herself for potential audience complaints.
But she's got plenty on her plate to distract her in the meantime. Between supporting her bestie Amy Schumer at her surprise wedding last week and dedicating herself to more political activism in the coming months, JLaw probably doesn't have time to worry about her accent or what the camera crew thought about her new-found naked comfort.
Red Sparrow hits theaters March 2nd.