Jennifer Lawrence will star in a new Netflix comedy about the end of the world, and we're so excited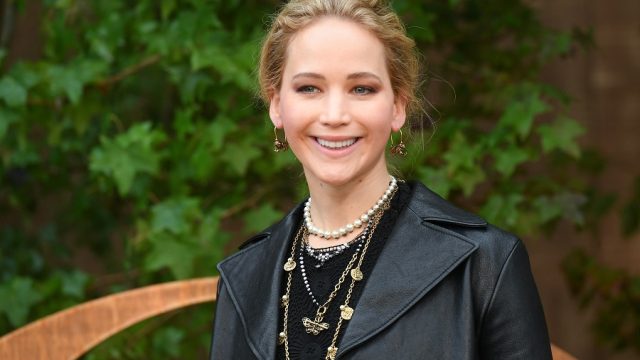 We have been waiting so long for Jennifer Lawrence to jump into the comedy pool. Though Lawrence is loved for her sense of humor—which shines through in every red carpet and press tour interview—the actress is best known for taking dramatic roles, such as in The Hunger Games, American Hustle, and her Oscar-winning performance in Silver Linings Playbook. But now she's putting her natural comedic timing to work in Netflix's upcoming comedy Don't Look Up.
Don't Look Up follows two "low-level" astronomers who embark on a media tour to warn their fellow humans about an incoming asteroid that will destroy Earth.
"I'm so thrilled to make this movie with Jen Lawrence, said the movie's writer and producer Adam McKay said in a statement, per Variety. "She's what folks in the 17th century used to call 'a dynamite talent.' And the fact that Netflix sees this movie as a worldwide comedy sets the bar high for me and my team in an exciting and motivating way."
McKay is Will Ferrell's creative partner with whom he co-wrote and directed blockbuster comedies like Anchorman, Stepbrothers, and Talladega Nights. More recently, McKay has producing credits on projects separate from Farrell, including Succession, Vice, Hustlers, and Booksmart. So we can maybe expect a bit of a dramedy edge to Don't Look Up, which seems perfect for Lawrence.
Netflix released a statement about Don't Look Up and why McKay is the best fit for the movie.
"Adam has always had great timing when it comes to making smart, relevant and irreverent films that depict our culture, said Scott Stuber, Netflix's Film Chief, per Variety. "Even if he somehow ends up predicting planet Earth's imminent demise, we're excited to add this to our slate before it all comes to an end.
And we're excited to watch it before the possible asteroid hits.
This year, Lawrence will also star as a mafia informant in Mob Girl and as Elizabeth Holmes in Bad Blood, based on the book of the same name about the fraudulent tech company Theranos. Needless to say, we are more than ready for some good Jennifer Lawrence content to hit both big screens and small in the coming months.