Jennifer Lawrence once got naked in a closet at Kris Jenner's house, you know, as you do
Jennifer Lawrence was guest host on Jimmy Kimmel Live last night, and she absolutely killed it. Lawrence spent nearly 20 minutes interviewing Kim Kardashian and, during that interview, we learned that she is somehow friends with Kris Jenner and went to her house for dinner — before getting naked in her closet.
"My utter obsession our Lord Jesus God, Kim Kardashian is here," Lawrence screamed during the monologue. "I recently went over to Kim's house for dinner. It was the best night of my life. I drank five martinis and wound up naked in her closet. I'm dead serious."
During the interview, we learned that the dinner was actually at Jenner's house though, as any Kardashian fan will tell you, both Kardashian and Kanye West lived at the house with the Jenner matriarch for some time after the birth of their children.
Lawrence joined Kardashian, Jenner, and West at Jenner's home for a boozy dinner, to which Kardashian added, "I have never seen my mom more drunk in our lives."
After five martinis, Lawrence instructed Kardashian to be her stylist. "I remember getting naked in your mom's closet and ordering you to dress me," Lawrence laughed.
But apparently, there was more to the story.
https://www.youtube.com/watch?v=NWdc7PyZNLA?start=130&feature=oembed
"You said, and I'm not joking, 'I really want Kanye [West] to style me,'" Kardashian clarified. "So I come in and you're fully butt naked and I was like, 'Um, I'm gonna intercom downstairs to tell Kanye to not come upstairs."
Kardashian styled Lawrence in one of her mom's dresses and revealed that Lawrence didn't take it off the entire night, to which Lawrence quipped, "Oh I have it, I went home in it."
Here's the result of their in-closet styling session.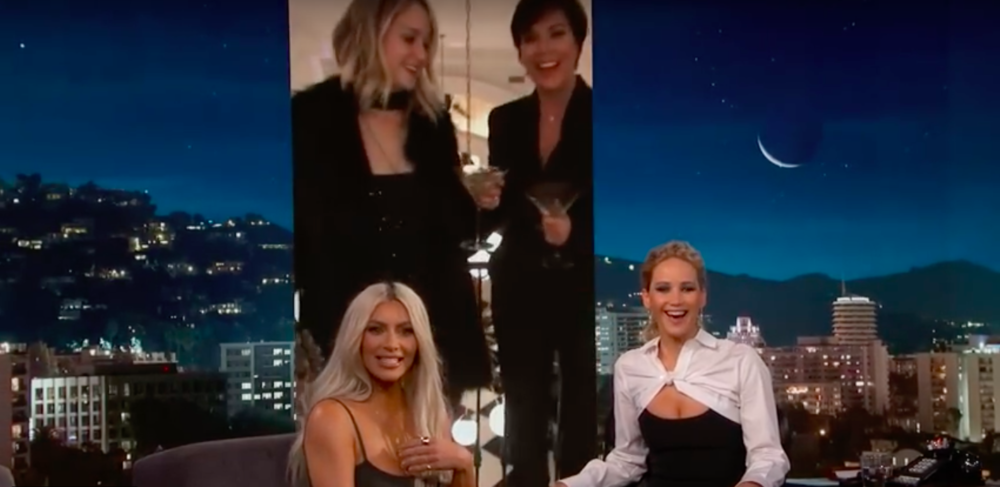 It's official. We want to be best friends with Lawrence, like, so bad.