Jennifer Lawrence jokingly ~embarrassed~ Chris Pratt on the "Passengers" set and the story will make you LOL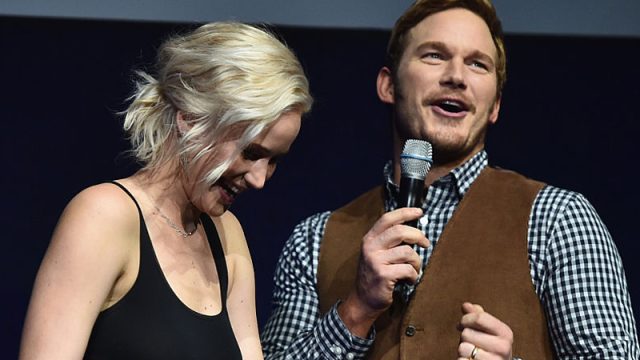 We're still a couple of weeks away from Passengers hitting the big screen, but we can tell you right now we're already very excited. Passengers stars Chris Pratt and Jennifer Lawrence are obviously awesome on their own. But, now that they're teaming up for this epic sci-fi film, we can't wait to see what kind of magic happens on screen. Although, we have to admit, we are a LITTLE concerned about what exactly is going to go down based on those eerie trailers…
However, it sounds like Chris and Jennifer already had some PRETTY fun times off the set.
Not that it's a HUGE surprise, TBH.
Obviously, both of these talented stars are also super hilarious in real life, so we would expect nothing less than super funny stories from the set of Passengers. In fact, in a Reddit AMA today, Chris detailed one of his funniest memories with Jennifer during filming,
"We were sitting in our chairs waiting for the next shot and a big set light bulb exploded nearby and she screamed. High pitched. [...]Then she immediately looked over at me and said, 'Jesus Chris! You scream like a woman! Did everyone just hear Chris?'"
LOL. JENNIFER!
 Chris went on to explain the AFTERMATH that ensued,
"For the rest of the shoot I couldn't convince anyone it wasn't me. I just had to own it. : )"
Awwww! We can't believe Jennifer would pull a ~trick~ like this on Chris (or CAN we?! ::wink::), but then, we love that he decided to just "own it." Because, obviously Chris Pratt is KINDA the best and no stranger to being a goofball on set himself. Man, to have been a fly on the wall with these two…
Obviously, Chris and Jennifer really hit it off behind-the-scenes of Passengers.