J. Law *might* be working on a #MeToo docuseries with former "E! News" host Catt Sadler, and we're ready to watch it now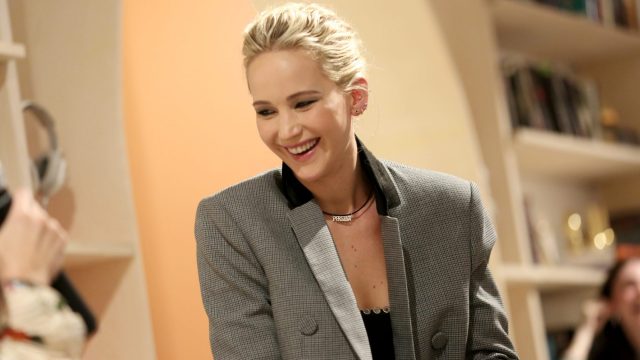 One of our favorites, Jennifer Lawrence, just let it slip that she's *probably* working on a #MeToo docuseries with Catt Sadler, the wonderful former host of E! News. Oh, my god. Oh, my god. We cannot wait! We need to know everything!
The Red Sparrow star announced the exciting news in the most Jennifer Lawrence way possible: by accident. While speaking at the 20th Century Fox x The Wing​ event in New York City on Friday, February 23rd, Lawrence mentioned her plans to collaborate with Sadler on something before declining to comment further. According to The Hollywood Reporter, she then added, "I wasn't supposed to announce that but I am." Lol. Classic J. Law.
Here's what we know so far. A source has confided in THR that Lawrence and Sadler are teaming up with documentary filmmaker Stephanie Soechtig, best known for Under the Gun and Fed Up,her films on the state of guns in America. The three are said to be working on a series that will touch on #MeToo, Time's Up, and the gender pay gap conversations in which Lawrence and Sadler have themselves participated. The source says the three "are looking to take a deep dive into issues facing women today." Amazing.
https://www.instagram.com/p/Bfj-tK9nsby
We're not sure when exactly Lawrence and Sadler became buds, but we do know Lawrence supported Sadler back in December when the E! News host announced she was parting ways with E! over its refusal to pay her as much as her co-host, Jason Kennedy. "Thank you Catt for sharing your story," Lawrence wrote on Facebook. (If you recall, Lawrence also went public with her own story about the gender pay gap after learning her male American Hustle co-stars were paid millions more than her and Amy Adams.)
Then, in January, Sadler gushed about her new gal pal to THR.
"Jennifer Lawrence has become a friend of mine — really, a hero of mine," Sadler told THR. "Long before my own experiences, her voice has been an empowering one and one I've always admired. To have her in my corner is hard to put into words, to be honest."
How lovely!
We cannot stress enough just how excited we are for this docuseries. We're sure these two ladies, along with Soechtig, will make something truly incredible together.