Jennifer Lawrence was a bronzed goddess at the Britannia Awards in her pale pink gown
In case you needed further proof of her beauty, Jennifer Lawrence stunned at the Britannia Awards wearing a pink-hued design that just further cemented her "J.Law for Queen of Everything" vote from us.
Seriously, is there anything Lawrence can't do right? She's a phenomenal actress, her humor is infectious, and she can even make falling on stage graceful. Now, the 26-year-old is proving once more that she rocks at everything with her effortless glamour and style while attending the British Academy's Britannia Awards.
All eyes were on Lawrence as she stepped out onto the red carpet on Friday's award show in Beverly Hills and we understand why — she looked like a total goddess.
The Joy actress donned an Elie Saab gown that took on a pale pink and champagne hue as she posed on the carpet.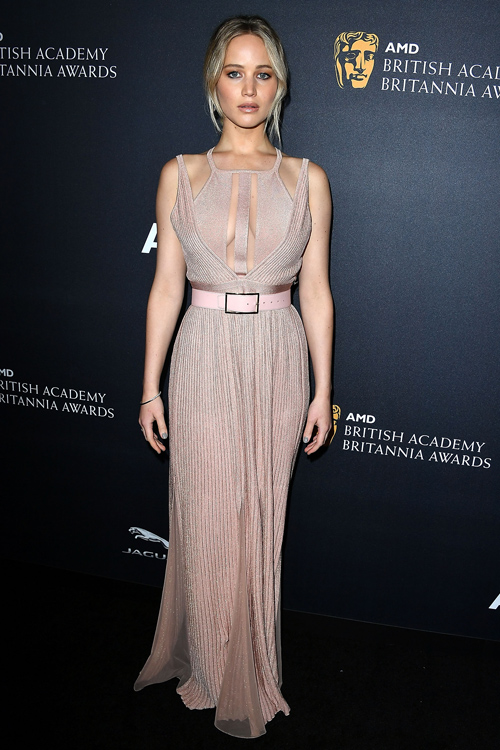 We're pretty sure if Sleepy Beauty (aka Princess Aurora) could change her iconic pink gown, she'd switch it out for this shimmery, form-fitting gown in a heartbeat.
Its ribbed fabric and unique neckline made it an instant showstopper. Plus, we're kind of in love with the big, solid pink belt used to accentuate Lawrence's small waist.
In addition to the light pink color and halter/v-neck combo on the top of the beautiful gown, the bottom of the dress had sheer panels that showed off her heels as she walked.
Come on, this dress is pretty amazing.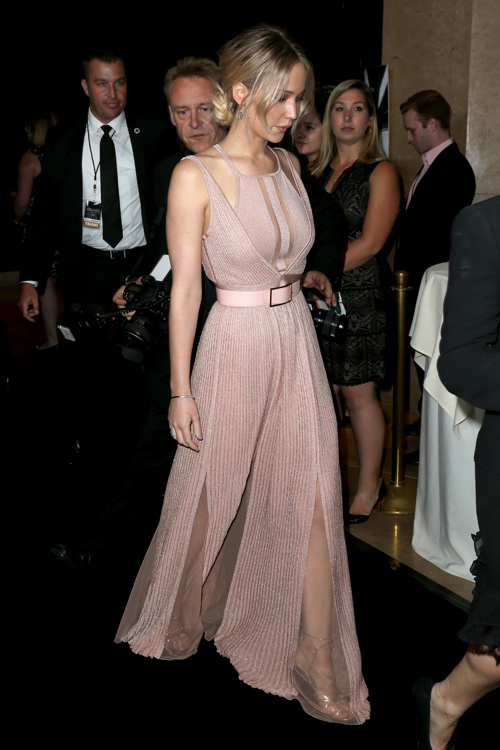 The Hunger Games star kept her makeup simple and fairy-like with just a hint of a golden smokey eye and natural-tinted lips.
Her hair was effortlessly chic, with a few pieces framing her face as the rest was pulled back into a loose low bun.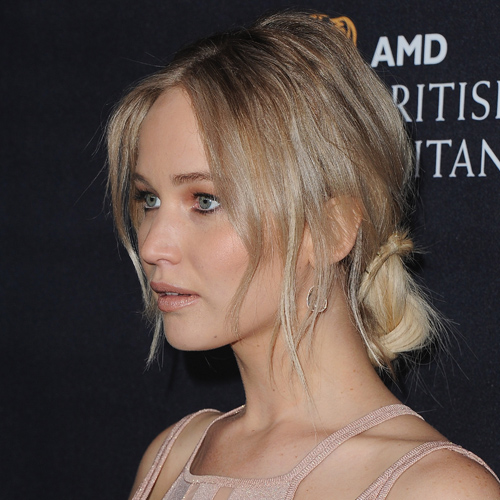 In addition to looking like something out of a fairytale with her outfit, Lawrence took the stage at this year's British Academy's Britannia Awards to honor Jodie Foster with the Stanley Kubrick Britannia Award for Excellence in Film.
"She broke down barriers, charted a path and proved that Hollywood's norms aren't always normal. Jodie, your brilliance and your kindness inspired me years ago when we first met. And your talent and bravery has made a permanent impact on our industry," Lawrence said.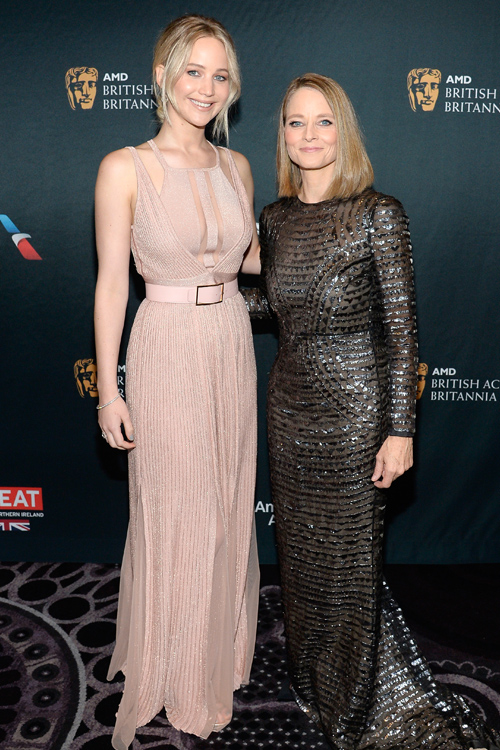 Foster looked chic and glamorous as she accepted the award wearing a shimmer-tastic, full-length gown. Lawrence however, won the fashion award in our minds and we're still not over how perfect she looked.
What do you think of Lawrence's blushingly beautiful ensemble?