Jennifer Lawrence transformed into a '90s alt girl band singer
With her loud voice, unapologetic commentary, and love for food, Jennifer Lawrence is arguably the most relatable actress in Hollywood. Lawrence joined Passengers costar, Chris Pratt, on The Ellen Show this week and once again made us want to be her BFF. As she and Pratt talked about having to perform harness-related stunts in their new film, we could not stop ogling at Lawrence's polka-dotted, '90s inspired ensemble.
We can totally picture her walking off stage, plugging some headphones into her Walkman, and jamming out to The Cranberries, all while fishing for her Fruit Stripes gum in her mini backpack.
And we are 100% on board with that aesthetic.
https://www.youtube.com/watch?v=8irgd80YphA?feature=oembed
What's so great about this outfit, you ask? Well, let's start our analysis at the top and talk about those necklaces. Obviously chokers are totally rad right now, but let's all remember where the choker got it's start in the fashion world –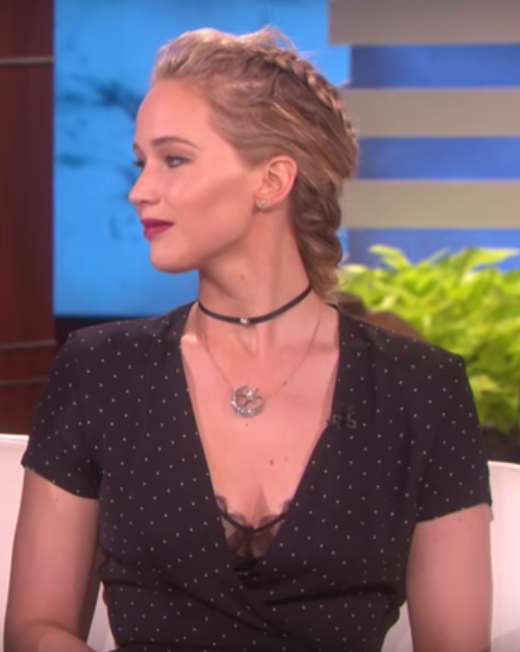 – the 1700s. But most of us weren't around then, so we only remember the resurgence of the choker during the 1990s. After fading out for a decade or so, chokers are back again and we're loving every minute of their revival.
Lawrence paired her simple choker with a gorgeous diamond moon and star necklace that reminds us of our fave '90s fashionista, Sabrina the Teenage Witch. Anyone else?
Then there's the peek-a-boo lace bra. It's badass but also super feminine. J. Law wore this same bralette to The Hunger Games: Mockingjay – Part 2 premiere, proving that, just like us, she re-wears her clothing! #Relatable much?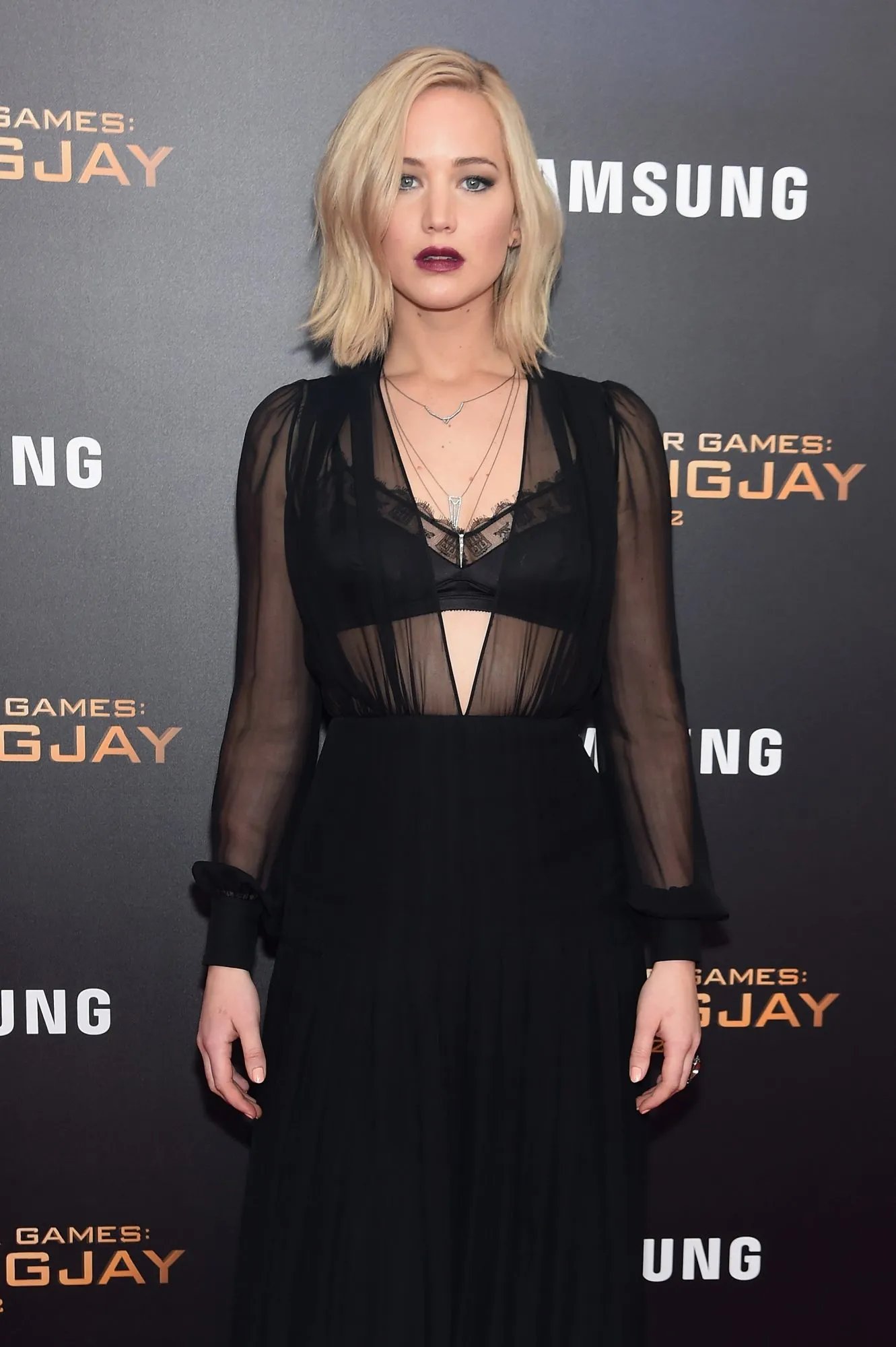 Lawrence and Pratt played "5 Second Rule" with Ellen later in the show. Side note: these two costars have so much chemistry it is killing us, and we cannot wait to see Passengers on December 21st.
But more importantly, during the game, we were able to get a good look at Lawrence's fabulous navy blue, polka-dot maxi dress.
If this dress isn't something Phoebe from Friends would wear, we don't know what is. The small print, dark color, long skirt, tie at the waist, and cap sleeves, are all '90s inspired. Literally, just Google '90s maxi dress to see what we mean.
And finally, Lawrence tops the whole look off with a pair of black, chunky Schutz heels that Clueless's Cher Horowitzwould die for.
The '90s are back and J. Law is on board with the rest of us. Check her and Chris Pratt out in their romantic drama Passengers, coming to theaters December 21st.