Jennifer Lawrence absolutely lost it over the "Real Housewives of Beverly Hills" praising her and it's so relatable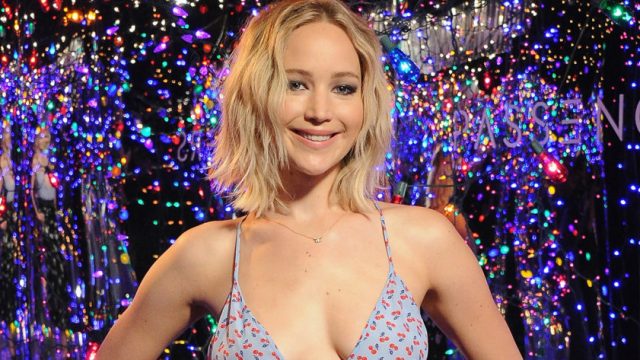 Proving again that she's an everywoman, Jennifer Lawrence loves The Real Housewives of Beverly Hills, and she totally lost it when she found out they loved her, too.
Now, we knew that in between starring in blockbuster movies with Chris Pratt, pulling pranks on her co-stars, and generally being a badass, J.Law loves a bit of downtime with everyone's favorite Beverly Hills-based crew.
In fact, so taken with The Real Housewives of Beverly Hills is she that Access Hollywood decided to treat the star, who is currently on the promo trail for her new movie Passengers,  to a bit of a Real Housewives love-in and it's so darn adorable (and 100% relatable, tbh).
Access Hollywood host Liz Hernandez surprised Jennifer with a cute AF video of the cast of The Real Housewives of Beverly Hills heaping praise upon her, and the way that J.Law freaks out is too much.
Pointing out the cast to Chris as they appear on the screen, Jennifer is so visibly excited by seeing the cast that her hands begin to shake and she says that she might cry.
"Jennifer Lawrence, I adore you," Erika Girardi says in the clip. "The fact that you even know who I am, like, blows my mind."
Also appearing in the video are Lisa Vanderpump, Kyle Richards, and Lisa Rinna.
"You really asked them for me? Lawrence asks Hernandez. "Genuinely, thank you so much."
"That's the kindest thing you could've done for her," Chris Pratt says, while Jennifer looks on the verge of tears.
Watch the full love-in below. https://www.youtube.com/watch?v=qjPtsE3HVZE
We can totally imagine Jennifer Lawrence getting her life to episodes of The Real Housewives of Beverly Hills. We just know that, like us, she'll be on the hunt for an amazing GIF to use, and will totally be up on the d-r-a-m-a that seems to follow the Housewives around.