Jennifer Garner's "pretend cooking show" is our new favorite thing
She may be new to Instagram, but she already knows how to make her social media followers happy. Jennifer Garner started up a "pretend cooking show" online, and has been posting snippets of it on Instagram. We're starting to think that someone ought to reach out and give Garner her own show — or at the very least, a special.
Wearing a cute matching set of pajamas, she shows her audience how to create English muffins. This is the second "show" Garner has done — the first being all about honey white bread, which she posted on Facebook before Christmas — so we're hoping that she keeps it up.
What we love about episode two? Not only does her dough look delicious, but her Golden Retriever, Birdie, makes an appearance. It seems as if he's on hand in case anything just happened to fall off the counter in the midst of prep.
"Birdie is an enthusiastic participant in the kitchen," Garner said as she panned down to show a content pup.
Even better, Garner posted the full recipe within the Instagram caption, so that you, yourself, can make these muffins at home. (Without Birdie, unfortunately.)
As she teased in the caption, this is just one part of her full video.
Garner said she got the recipe from a cookbook called Huckleberry, noting that the muffins are always a crowd-pleaser when she makes them.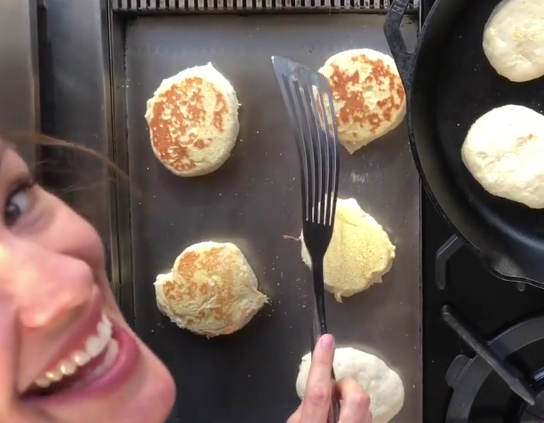 We can't wait for Jennifer's next video. Because if there's one thing we love, it's Jennifer Garner. And if there's two things we love, it's Jennifer Gardner and food.