Jennifer Garner's Reaction to Finally Finishing 'The Office' Is So Pure
Okay, it's also hysterical.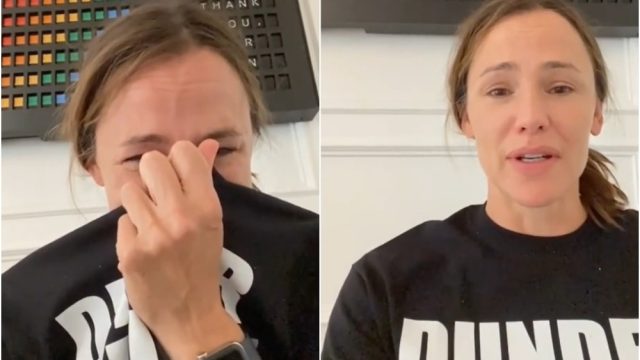 Jennifer Garner and her kids hopped on The Office bandwagon at the start of quarantine in March, and after watching an episode per day, they finally finished the series. And Garner's reaction to the finale—which she accidentally shot in slow motion—is so pure, so just, and so dang funny.
"My kids and I have spent months piled on the couch working our way through "How to Behave as Grownups" ??‍♀️, aka #TheOffice," Garner captioned her August 25th post. "Apparently we are sensitive people—the finale hit us pretty hard. When I realized I'd accidentally shot my farewell testimonial in slo-mo I realized: your Monday might need this, too."
It gave me some really big feelings, Garner laughed in a voiceover recorded for her video.
"Oh, bless her heart, oh my goodness. Look who needed a big cry! And maybe a shower would have been helpful."
Mindy Kaling, who both starred and wrote on The Office, left a heart emoji on Garner's post. Angela Kinsey, who played Angela, commented, "Omg!!… I love this. I love you and your family and just so you know the finale makes me bawl my eyes out too!"
Then, when Garner commented that she couldn't handle the Office moment when Dwight said Pam was his best friend, Pam herself, aka Jenna Fischer, wrote back "anything with Dwight and Pam" with crying face emojis.
Someone in the comments wrote that an Office watch is always best followed with a marathon of Parks and Rec, so hopefully, Garner's reaction to the ending of that show will be just as glorious as the one above (filmed in slo-mo and all).
As Garner signed off in her "testimonial:" "Bears, beets, and Battlestar Galactica."