Jennifer Garner literally sold Girl Scout cookies outside a grocery store for her daughter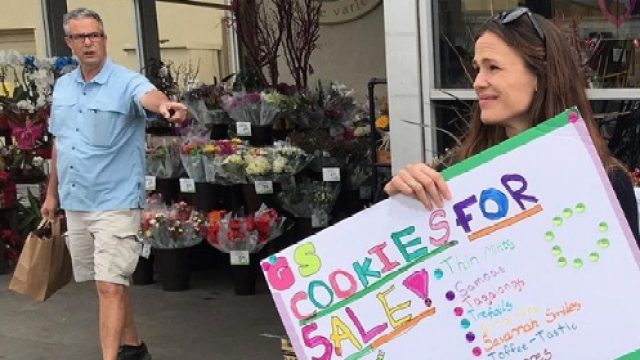 Sure, she's an actress, but she's also a mom, which is why Jennifer Garner helped her daughter's Girl Scout troop by lending a hand in selling cookies. So if you're a fan of Samoas and 13 Going On 30, you may have been in luck this weekend.
Garner parked herself outside a grocery store with a sign advertising some of this year's offerings. And the mom of three (with her two girls, Violet and Seraphina, and son Samuel) was a total pro.
"I'm the one telling the girls, you know, 'Try to talk about the gluten-free because they're a dollar more.' Let's have an upsell!" she said during an appearance on Live back in 2016. (Later, she joked about how they should start selling double-gluten cookies for a dollar less.)
She also noted that she doesn't get recognized all that often — probably because people don't expect to see her there. So it's a good way to help her girls without taking up too much of the spotlight.  "I'm just there with the troop," she said to Kelly Ripa and Michael Strahan.
We're not too sure if the gentleman in the back had just figured out that Jennifer Garner was outside the store, or if he was pointing to something else entirely. It's pretty epic, no matter what.
While Garner called herself the "most deadbeat troop leader," she admits that she went through all of the training involved in order to lead. We personally think the troop is lucky to have such a kind, sweet, and business-savvy leader to guide them. By the way, if you don't live near Garner and want to pick up a few boxes (because, 'tis the season) www.girlscoutcookies.org will be your best resource.
Now the big question is, what's Garner's favorite Girl Scout cookie?