Jennifer Garner made a music video about cracked nipples and the other "joys" of motherhood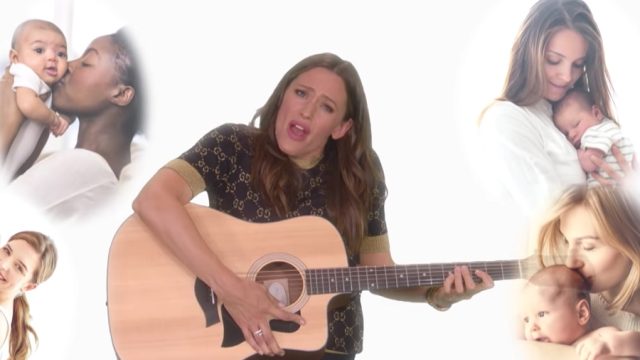 Aside from being a talented actress, Jennifer Garner is a mother of three. And in honor of Mother's Day, Garner "wrote" a song about motherhood for her May 10th appearance on The Ellen DeGeneres Show. And LOL forever.
Garner served as co-host for the episode, which was Mother's Day-themed. And in a special homage to moms, the entire audience consisted of pregnant women. Garner shared her own stories about pregnancy — like how her doctor told her she wasn't pregnant when she actually was.
"He gave me one (a pregnancy test) and said, 'I don't know, you're not pregnant. It's negative.' And I was like, 'Yeah, I am. I'm telling you I am.' So [my daughter Violet's] 12, and I don't use that doctor anymore, but I have her so I won!" she said.
Garner then introduced the Mother's Day music video she "made" for her special appearance. The song dives into everything from pumping milk and cracked nipples to late-night chardonnay cravings.
https://www.youtube.com/watch?v=c8MNU8_wfxk?feature=oembed
LOL. As if we needed yet another reason to love Garner. And we're sure moms everywhere can seriously relate.
A very happy early Mother's Day to Jennifer Garner and all the moms out there in the world. You guys went through a lot for us…