Jennifer Garner joked to paparazzi that she's dating Brad Pitt, and hey — we could actually see that happening
If someone knows how it feels to be on a ton of tabloid covers, it's Jennifer Garner. After her uncoupling with actor Ben Affleck, it seems like she was in the midst of a rumor monsoon. The good news is that her and Affleck both managed to get the press about their relationship under control (which is incredible) and both continue to thrive. No matter what is happening with Garner and Affleck, it's none of our business as long as they're both happy and providing for their children.
But, that doesn't mean that Jennifer Garner can't have a little fun with the prying paparazzi every now and then. In fact, after getting coffee and being followed while out with a friend, she told the camera man that she was dating Brad Pitt.
https://www.youtube.com/watch?v=OFNghCpaAKc?feature=oembed
"Brad and I are dating," she jokingly tells him. "Isn't that great?"
Then she gives an enthusiastic thumbs up after gaining some congratulations.
Hey — if you've got a camera in your face right after enjoying a workout, you have a right to have a little fun with the experience. Kudos to you, Jennifer Garner!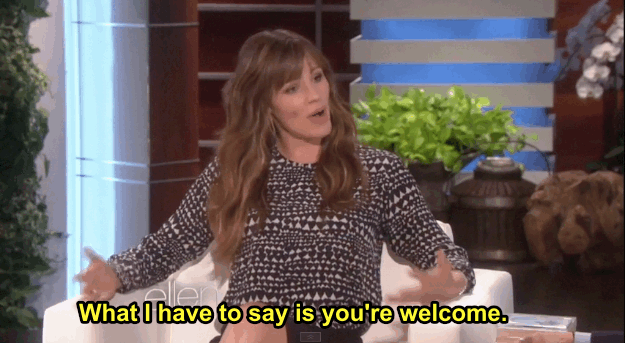 Of course, it's way too soon to pair Brad Pitt up with another celebrity. The guy needs some time to heal and figure things out after his very public breakup with Angelina. But if we heard that he was courting Jennifer Garner, it wouldn't be the worst news in the world. Both of them are great with kids, both are phenomenal in front of a camera, and both are used to a ton of media attention.
(Sure, we've never met either of them to know for sure whether or not they'd be compatible, but it's not ridiculous to picture the two, y'know, going out for coffee sometime.)
No matter what, we'd love to grab a cup with Jennifer Garner, since once again, she proved that she's pretty darn fun to be around!