Jennifer Garner opens up about her divorce in a beautiful, honest way
Jennifer Garner and Ben Affleck announced their divorce back in June, and Garner has since remained silent about what went wrong in their marriage (which is totally understandable —it's her relationship and as a human person, she has every right to keep what goes on in that relationship private). However, for the first time, she's decided to open up about her divorce for the most recent Vanity Fair cover story. And the interview is incredibly, beautifully frank.
By now, everyone has probably heard that Affleck reportedly had an affair with the nanny. But according to Garner, the nanny wasn't the reason for their divorce.
"We had been separated for months before I ever heard about the nanny," she said. "She had nothing to do with our decision to divorce. She was not a part of the equation. Bad judgment? Yes."
Garner admitted that explaining to her kids why the nanny had to leave their lives was really difficult.
"It's not great for your kids for [a nanny] to disappear from their lives," she said. "I have had to have conversations about the meaning of 'scandal.'"
To outsiders, their marriage seemed perfect, so when the couple announced their split, people were devastated. They just really wanted to know what happened and if America's favorite duo would ever get back together. Garner had to stop paying attention to the frenzy by no longer going online or watching TV.
"I just won't do it anymore," she said. "I took a silent oath with myself last summer." But that doesn't mean she doesn't still feel the pain. "It hurts me so much, and I care so much," she added. Instead of worrying about what everyone is saying about her and her family, she focuses her energy on her kids and the "big picture" by not allowing her emotions to be ruled by anger.
As angry as she might be (and of course has every right to be), she still says that Affleck is the love of her life.
"I didn't marry the big fat movie star; I married him," she said. "And I would go back and remake that decision. He's the love of my life. What am I going to do about that? He's the most brilliant person in any room, the most charismatic, the most generous. He's just a complicated guy."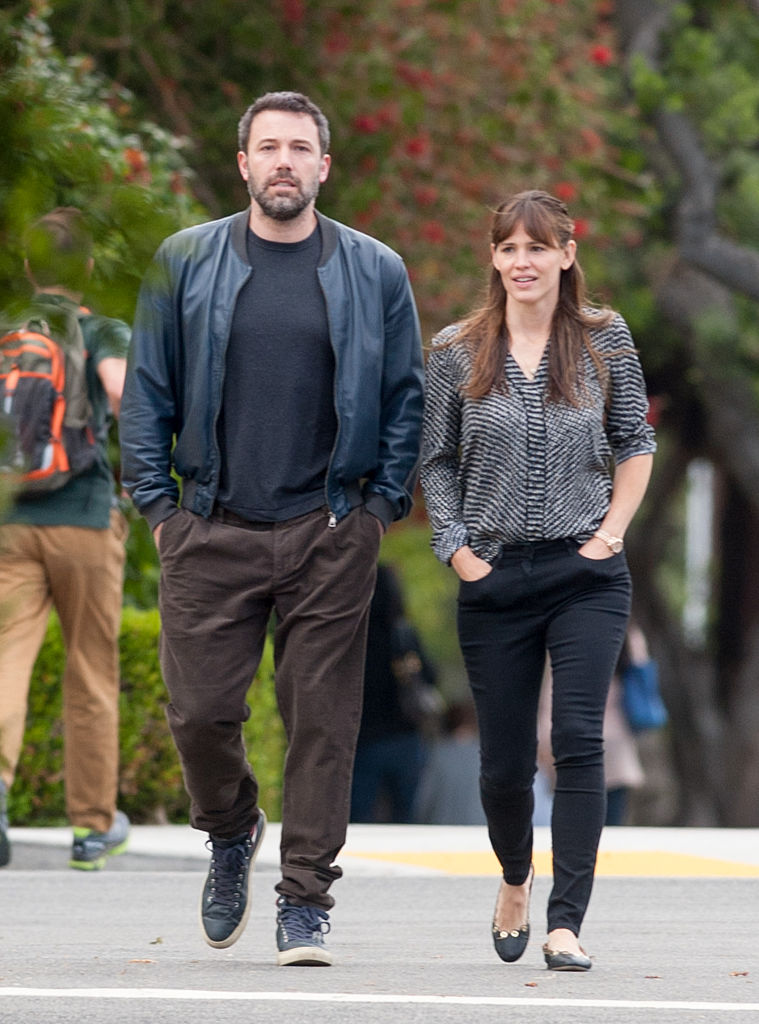 "It was a real marriage," she added. "It wasn't for the cameras. And it was a huge priority for me to stay in it. And that did not work."
And as hard as things may get, Garner and Affleck still rely on each other to get through the tough times.
"We still have to help each other get through this," she said. "He's still the only person who really knows the truth about things. And I'm still the only person that knows some of his truths."
While she hasn't admitted to being ready to date, she has gotten asked out (because of course she has!).
She was standing in line for the bathroom before a flight when a guy asked her out on a date. "I was so floored," she said, adding that she's pretty old-school when it comes to dating. "I want flowers; I don't want to text. What does that make me? What kind of dinosaur am I?"
Garner also mentioned that she's not a huge fan of Affleck's gigantic new back tattoo and had the absolute best interpretation of it.
"You know what we would say in my hometown about that?" she asked. "'Bless his heart.' A phoenix rising from the ashes. Am I the ashes in this scenario? I take umbrage. I refuse to be the ashes."