Jennifer Garner clears up the rumors about her and Ben Affleck in a super classy way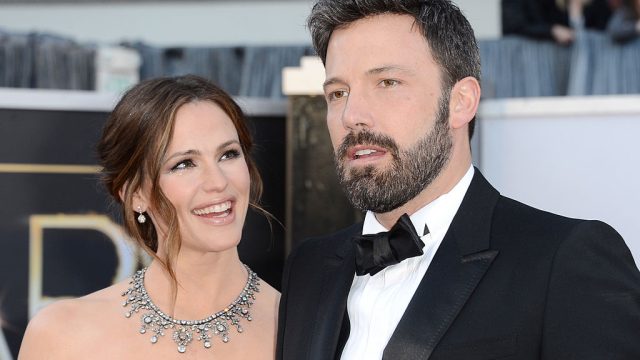 Hearts around the nation broke when Jennifer Garner and Ben Affleck shockingly called it quits last year, after a decade of marriage. The former Daredevil co-stars seemed to be so in love for so long (did I mention they were married for 10 years?!), and they made such a beautiful family with their kids Violet, Seraphina, and Samuel. We all mourned the loss of Bennifer 2.0.
Since then, rumors have abounded regarding a possible reconciliation for the famous pair (probably because we collectively just can't deal with seeing one of our fave Hollywood relationships come to a real end). Now, Jennifer is speaking up to shut those rumors down.
Jen has truly been the picture of class and poise in the aftermath of her headline-making break-up. There were whispers about Ben's alleged infidelity with the family nanny, rumors that had started before the split was even confirmed. Ben shut those rumors down and Jen, in her never-ending beneficence, also took care to clarify that the nanny "had nothing to do with [their] decision to divorce" and "was not a part of the equation."
Like many former couples with children who are committed to remaining amicable after a split, the pair has spent a lot of time together as a family and has yet to formally file divorce papers, leading many to believe that a potential reunion could be on the horizon. But Jen's recent comments appear to shut that down.
In an appearance on the Today Show, Jen clarified her relationship status with her estranged hubby: they're just "great friends."
When asked about a recent family trip to London (which wasn't even their first group trip as a family, post-split), Jen explained that her ex was there filming the upcoming Justice League movie and she felt that "the kids should have that experience" of seeing their father on set and traveling abroad. She even took care to reiterate that they are all still a family, calling their unit a "modern family."
Interviewer Natalie Morales commended how admirable Jen and Ben putting the kids first was, to which Jen responded that "you don't have a choice, it has to be" like that. *Such* a great mother.
Jen is doing an unreal job of remaining on good terms with her ex, especially given the fact that the break-up was by no means easy on her. In her soul-baring interview with Vanity Fair this past March, Jen still called Ben the love of her life.
"I ran down the beach to him, and I would again. You can't have these three babies and so much of what we had. He's the love of my life. What am I going to do about that? He's the most brilliant person in any room, the most charismatic, the most generous. He's just a complicated guy."
Oh, my heart.
With Jen's Vanity Fair comments, it certainly makes sense that people would speculate about a reconciliation. Alas, it seems that they're not going down that road. But most importantly, Jen seems happy in this latest interview, their kids (who get to have both parents at their birthday parties) seem happy, and Ben is hard at work on his upcoming DC movies.