This artist transforms Palm Springs billboards into gorgeous natural vistas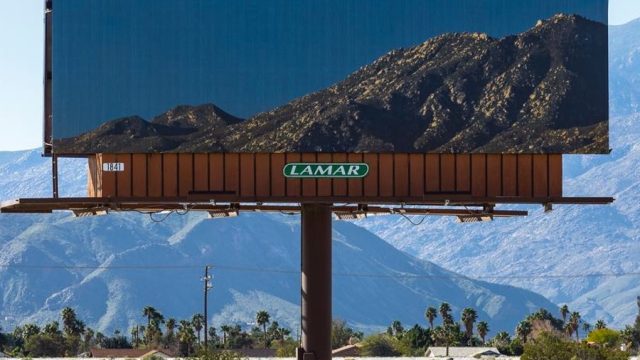 How many billboards have you seen in the course of your lifetime? Now, how many of them can you actually recall? They're such a part of our visual landscapes that, despite their size, it's easy to forget they're there. But one artist is taking these advertising spaces and turning them into thoughtful art.
Bolande's work is part of the larger Coachella Valley installation Desert X. Her piece specifically tackles the large-scale commercialism that brought billboards into our lives in the first place. Instead of suggesting things to sell or places to see, these billboards bring "back" the nature they're obscuring. It's a play on visuals, and well, it's also quite beautiful.
Many of the other installations and works in the series straddle that same line.
Artist Phillip K. Smith III's work "Circle of Land and Sky" also uses natural visuals:
Meanwhile, artist Norma Jeane's "Shybot" plays around with our ideas about humans and technology:
Instead of forcing human interaction, Shybot purposefully ignores humans. Its function is to act as an observer outside of mankind's sphere of influence. When Shybot gets lost, that's a good thing, as it bridges over into otherwise untouched spaces. (But of course, we can watch where it goes through drones and on-board cameras.)
All of the Desert X work is viewable in the Palm Springs/Coachella area until April 20. Read more about this year's work here.