Jennifer Aniston is all about the Taco Cleanse because she's our life model
When we heard there was an actual, real-life 30-day "taco cleanse," we were totally like, "OK, we kind of doubt the actual validity of this, but an excuse to eat tacos for a full month?! Count us in." And then Jennifer Aniston was like, "same," because she knows and fully identifies with our love for tacos.
OK, if you're a little confused, here's the deal. The Taco Cleanse: The Tortilla-Based Diet Proven to Change Your Life is a real-life, grown-up book that actually instructs you to eat tacos for 30 days as a cleanse. No, not a cleanse that will help you to lose a whole ton of weight or anything, but one that promises to keep you full and satisfied. Which is a thing that food should *probably* do on its own, but "detox your dreams" does sound pretty catchy.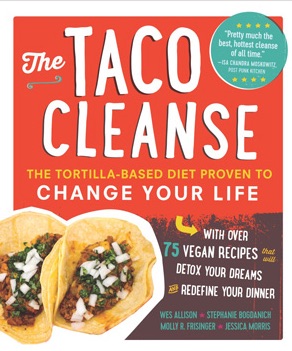 Although the book makes no promises, the authors — taco "scientists" Wes Allison, Stephanie Bogdanich, Molly R. Frisinger and Jessica Morris — claim to have lost weight after 30 days of only eating tacos. The cleanse is also vegan, so by following it, you'd pretty much transform into a vegan for a month. So if you've always wanted to see what it would be like to be on a vegan diet, but were kind of upset at the lack of tacos involved, voila!
So here's where Jen comes in. Recently, in an interview with Yahoo Food, the actress spoke about her healthy lifestyle, snacking at awards shows, and her role as ambassador for Smartwater's new sparkling water. And the publication couldn't help but ask Jen about her views on the very first 2016 dieting fad: The Taco Cleanse.
Jen hadn't heard of the cleanse before, but her reaction to "eating tacos for 30 days" was pretty much the exact same as ours: yelling "WHAT?!" and immediately pulling out her phone to Google it.
"I'm riveted [by the Taco Cleanse]," Jen, who was "intrigued," told the publication. "I can see that being something."
Same, Jen, same. We're all gonna have to wait some time to check it out, as the book is currently sold out on Amazon, but we're pretty sure Jen could work some of her star-power magic and get her hands on one for herself. After all, even if the cleanse doesn't end up working, saying, "I'm eating tacos for my health," would probably be heavenly all on its own.
(Images via NBC, Twitter, Amazon.)