Jennifer Aniston is going to play the *president* in a new Netflix movie, and nothing but respect for HER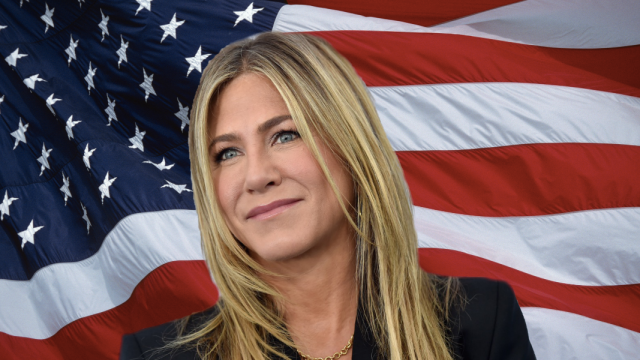 So no one told you life was gonna be this way — that Jennifer Aniston would one day conquer the White House! Netflix just announced that it won the bidding war for First Ladies, a political comedy film in which Aniston is slated to headline opposite Tig Notaro, who — get this —  will star as the First Lady. I don't know about you, but this is already better than House of Cards, West Wing, and Veep combined.
According to the streaming giant, First Ladies will primarily be about America's first female commander-in-chief and her wife, The First Lady. "When Beverly and Kasey Nicholson move into the White House, they'll prove that behind every great woman…is another great woman."
Damn right. Just imagine for a second that we're living in a country whose political climate is not in shambles and we have Rachel Green as Head of State. Could that BE any more exciting?!
Notaro and Stephanie Allyne are writing the film based on their original pitch, as well as serving as producers alongside Aniston. Adam McKay, Will Ferrell, Jessica Elbaum, and Betsy Koch will also be producers on the project for Gloria Sanchez Productions. Chris Henchy is executive producing.
This isn't Jennifer Aniston's first time working with Netflix. She recently signed on to star opposite Adam Sandler in Murder Mystery, an upcoming comedy feature. Meanwhile, Tig Notaro has an original comedy special, Tig Notaro Happy to Be Here, dropping on the streaming platform on May 22nd.
Netflix remains tight-lipped regarding the rest of the plot of First Ladies, but one thing's for sure: It's going to be kick-you-in-the-crotch, spit-on-your-neck fantastic.
Nothing but respect for *this* president.