Jennifer Aniston showed off her natural waves, and this should be the new "The Rachel"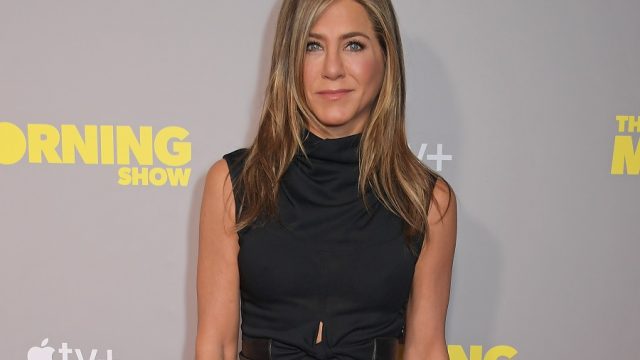 Few women embody the term "hair icon" quite like Jennifer Aniston, whose strands have been setting trends ever since she wore "the Rachel" during her early years as Rachel Green on Friends. Aniston's hair has been part of the cultural conversation of beauty for decades, but it turns out we've rarely seen much of her natural texture all this time—that is, until now.
Aniston's longtime pal and stylist Chris McMillan (yep, the one behind the infamous "Rachel" cut!) revealed that instead of her now-signature sleek, straight blowout, he opted to give her "natural curl and waves" a moment to shine for the NYC premiere of her new Apple TV+ series, The Morning Show, sharing the secrets behind her style on Instagram.
In a post on Monday, November 4th, McMillan explained that Aniston's look involved mostly air-drying, plus "touch[ing] up minimally with blow drying the roots for direction and touching up random pieces with a wave iron."
Seriously, that's it? Hair goals, indeed.
McMillan "touched up" Aniston's hair with a Dyson Supersonic dryer and added some waves with a GHD Wave Wand, finishing off the look with leave-in conditioner and detangling spray by Drunk Elephant that isn't actually out yet, per Refinery29. Because if anyone gets to try killer hair products before the rest of us, we're not surprised it would be Aniston.
Aniston continues to gift us with hair surprises. Not only did she actually hate "the Rachel" haircut that launched a million copycats (she called it "a pain in the butt" to maintain, because of her naturally thick, wavy texture—relatable!) she actually prefers her hair straight. And after one rebellious haircut as a kid, her hair grew back in curly, and it was never naturally straight again, she recently told Glamour.
Still, we love to see anyone embrace their natural strands, so here's hoping Jen continues to rock whatever look she happens to be feeling. She looks gorgeous no matter what—and she'll forever be one of our top sources of hair inspo with whatever looks she tries out.