Jennifer Aniston explained why "Friends" could never exist today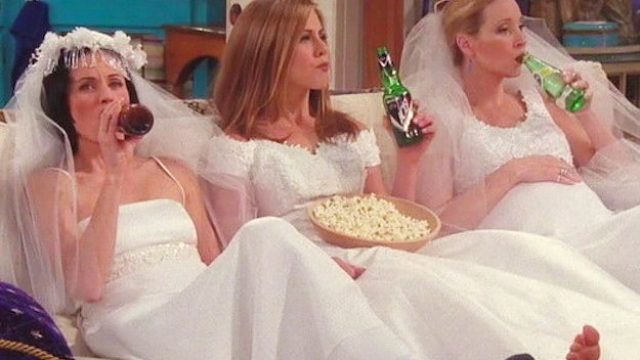 Just days after the internet fell for a hoax announcing a reboot of our beloved Friends, Jennifer Aniston said a Friends reboot could not exist in 2017 anyway. And, well, her reasoning is pretty solid!
While the casts of a ton of our favorite '90s shows, like Twin Peaks, Will & Grace, and, The X-Files, have reunited to film new episodes, it seems that Friends will not be joining them. On Arianna Huffington's new Global Thrive Podcast, Aniston opened up about the topic.
Long story short, our favorite Friends would be glued to their cell phones.
"[...] If Friends was created today, you would have a coffee shop full of people that were just staring into iPhones, Aniston told Huffington. "There would be no actual episodes or conversations.
Not gonna lie, we *totally* agree that the Friends characters would be phone addicts. With cell phones, Ross and Rachel's break would be due to some shady Instagram likes, Chandler would quit his job to work on an app idea, and Joey would become Vine famous — only to find himself back out of work after Vine shuts down.
The creators and cast of Friends, which ended its run in 2004 after 10 incredibly successful seasons, have been plagued with reboot rumors for the last decade. The most common argument made against a reboot has been that the show's famous formula just wouldn't work in the age of technology.
While we may never see our six favorite Friends reunite on screen at Central Perk, the cast has remained close since the series ended, so we can at least take comfort in that. Otherwise — we can rewatch the entire series on Netflix.