See the First Pic of Jennifer Aniston and Brad Pitt's 'Fast Times' Reunion
Still dreaming about that gentle wrist grab.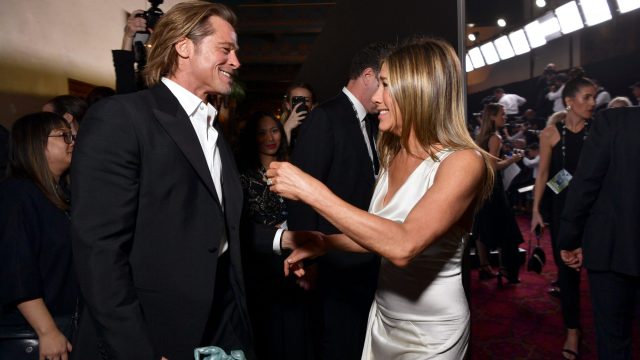 Update, September 15th, 2020, 11:07 a.m. ET: Be still our nostalgic hearts. There are two reasons to be in your feelings about a new virtual call pic. One, it's from a table read of a classic '80s movie, Fast Times at Ridgemont High, and two, it features a reunion of famous exes Jennifer Aniston and Brad Pitt. Sure, they're remote, but we're still feeling the vibes.
Last month, it was revealed that Aniston and Pitt would join famous friends like John Legend, Julia Roberts, Matthew McConaughey, and others to read the script for Fast Times. Now, the first photo from the event is here to get us even more excited.
You can watch the exes (and current friends!) reunite virtually to perform the iconic movie on Thursday, September 17th, live on Facebook here and on TikTok here.
Original post, August 18th, 2020: "Brennifer" will be back together again—well, virtually. Former Hollywood power couple Jennifer Aniston and Brad Pitt are reuniting for a virtual table read of 1982's Fast Times at Ridgemont High. And dude, this rocks.
Though neither Aniston nor Pitt appeared in the original Ridgemont High, comedian Dane Cook is pulling together some famous friends—including Sean Penn, whose breakout role was stoner Jeff Spicoli in the teen flick—to read through the script. Aniston and Pitt will read for Ridgemont High characters alongside Jimmy Kimmel, Morgan Freeman, Shia LaBeouf, Matthew McConaughey, and Julia Roberts.
The virtual event is called "Feelin A-Live," and will be unrehearsed, anything-goes table read," according to CNN. And that's always the best kind of table read.
Pitt and Aniston were married in July 2000, and their marriage lasted four years. The two went their separate ways and had high-profile other relationships that each ended within the last five years. Their aligning singledom has caught the eye of Brennifer fanatics who have since begged and pleaded for Pitt and Aniston to get back together.
Then when they shared *that moment* backstage at the SAG Awards in January this year, the internet collectively screamed.
Sure, it's been 15 years since the pair ended their romance. But do those feelings really go away? We won't start anything, but we will be the first to admit that watching Pitt and Aniston share a screen together during this upcoming Fast Times at Ridgemont High reading will be FUN.
Deadline reports that the table read will take place on August 20th at 9 p.m. ET over on the Facebook and TikTok pages for CORE, Sean Penn's emergency relief nonprofit organization, and it will benefit CORE's mission to provide COVID-19 testing and relief services throughout the United States, as well as REFORM Alliance's goal to pass laws to reform the criminal justice system and protect the incarcerated from COVID-19.
Come for Brad and Jen, stay for the fundraising (and Morgan Freeman).