Jennifer Aniston addressed all the "broken heart" post-divorce rumors in the most Jennifer Aniston way possible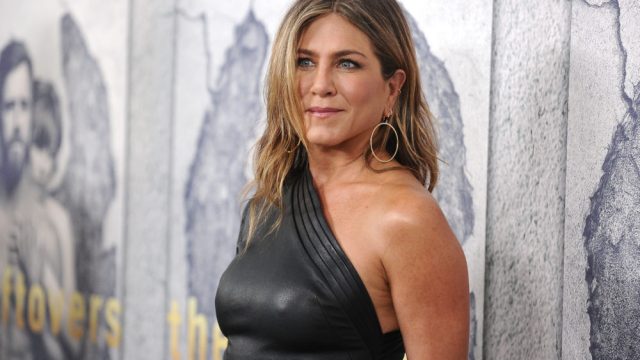 Although her personal life is constantly in the tabloids, Jennifer Aniston has managed to remain above it all. And in a recent new interview, Aniston assured the world that she's doing just fine after her split from husband Justin Theroux.
Aniston spoke to friend Molly McNearney (Jimmy Kimmel's wife and former writer for Jimmy Kimmel Live!) for InStyle magazine's September 2018 cover, which was published today, August 1st. The friends dished on everything from Aniston's new movie Dumplin' to margarita recipes in the often hilarious interview. But Aniston also made sure to set the record straight about how she feels being single again, and also addressed the most common misconceptions about her.
"The misconceptions are 'Jen can't keep a man,' and 'Jen refuses to have a baby because she's selfish and committed to her career.' Or that I'm sad and heartbroken," Aniston told McNearney. "First, with all due respect, I'm not heartbroken. And second, those are reckless assumptions."
The actress went on to condemn those who speculate about why she never had children. "No one considers how sensitive that might be for my partner and me. They don't know what I've been through medically or emotionally," she said. And she also asserted that there's nothing wrong with being a childless woman.
"There is a pressure on women to be mothers, and if they are not, then they're deemed damaged goods," she said. "Maybe my purpose on this planet isn't to procreate. Maybe I have other things I'm supposed to do?"
Aniston also spoke out against the rampant sexism in the media, noting how the woman is often blamed when a famous couple splits.
"When a couple breaks up in Hollywood, it's the woman who is scorned. The woman is left sad and alone," Aniston pointed out. "She's the failure. F that. When was the last time you read about a divorced, childless man referred to as a spinster?"
With so many new projects in the works, including an upcoming series where she literally plays the president of the United States, it's clear that Aniston is doing more than okay on her own.
We love that she's speaking out on these issues, and we have a feeling that many women will relate.