Jenna Dewan honored at children's hospital gala in her first public appearance since splitting from Channing Tatum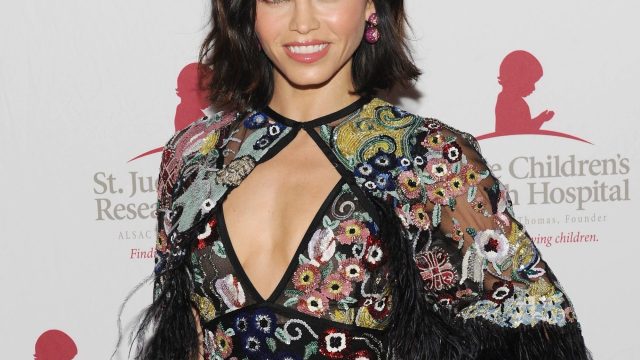 It's been a few weeks since Jenna Dewan and Channing Tatum announced their shocking split. And while fans are still heartbroken, it seems like the couple is moving on. On Friday, April 20th, Jenna Dewan attended the St. Jude Hope & Heritage Gala in New York City, where she received the "Humanitarian of the Year" award in recognition of her longtime advocacy for the children's research hospital's "pioneering research and lifesaving treatments," according to Elle.
Dewan didn't walk the red carpet alone, though. Her guest for the evening was none other than her father, Darryll Dewan. Unsurprisingly, she stunned in a floor-length, embroidered floral gown with a matching cape. After accepting her plaque, Dewan later took to Instagram to post a photo of the award and to give thanks to the hospital:
"Thank you St. Jude for this incredible honor! I am so proud of everything you do and continue to do for children," Dewan wrote.
In her Instagram story, the Step Up actress also shared a message of gratitude for the event's organizers and some memories from the night out with her dad.
Dewan and Tatum heartbreakingly announced their separation on April 2nd in a joint statement to People, which they also shared on social media.
Friday's event marked Jenna Dewan's first official public appearance since the separation.
Since the announcement, Dewan has officially dropped the "Tatum" from her name, at least on Instagram. Both actors have been spotted in public without their wedding rings, so it looks like the separation will likely end in divorce. However, the two stars assured fans their split was both mutual and for the best.
"We have lovingly chosen to separate as a couple," their statement read in part. "We fell deeply in love so many years ago and have had a magical journey together. Absolutely nothing has changed about how much we love each other, but love is a beautiful adventure that is taking us on different paths for now.
Tatum has yet to return to the spotlight since the announcement, but it seems like both stars are both doing well post-split. Dewan's first public appearance shows that she's moving on with her life. And and while it's hard to say goodbye, it's clear the separation might be the right decision.