Jenna Dewan gave birth to her baby boy, and the first photos are so cute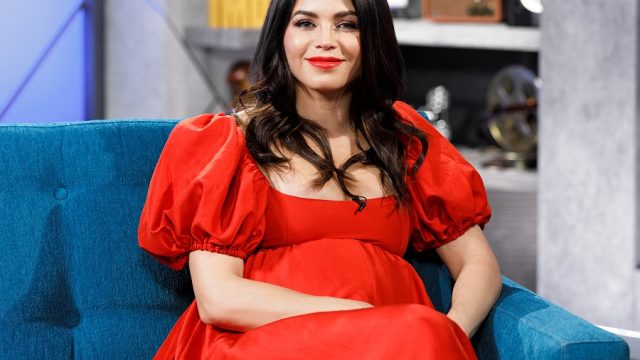 Jenna Dewan is officially a mom of two! The actress gave birth to a baby boy on March 6th, but she shared the news with the world today, March 10th. This marks Dewan's first child with fiancé Steve Kazee, and her first son (she has a 6-year-old daughter named Everly with ex-husband Channing Tatum). We're so happy for the engaged couple's growing family, and the newborn pic Dewan shared is giving us all the feels.
On March 10th, Dewan posted a super sweet photo of herself with baby boy Callum Michael Rebel Kazee on Instagram. In the image, Callum rests his newborn-hat-clad head on Dewan's shoulder, and she holds his body close to her neck. We can feel the love through the screen.
Dewan captioned the post, "And just like that, our hearts exploded into all of eternity and beyond ❤️🌈❤️ Welcome to the world you little angel! ❤️ Callum Michael Rebel Kazee 3/6/20"
Tons of Dewan and Kazee's celeb friends offered their congrats to the couple by commenting on the photo. Lea Michele kept it simple by responding, "Congratulations!!! ❤️❤️❤️", Kate Bosworth said, "Awwww so happy got you beauty!!!!! ????", and Kelly Ripa spread the love by commenting, "This is a great day! Congrats ♥️♥️♥️♥️♥️♥️♥️♥️♥️♥️".
Kazee also posted a photo announcing the exciting news with a precious photo holding Callum's tiny hand. The new dad captioned the photo, "In an instant our universe burst wide open and nothing would ever be the same. Welcome to earth star child.
Callum Michael Rebel Kazee 3/6/20" We're not crying, you're crying.
Throughout her pregnancy with Callum, Dewan served major mom goals by posting gorgeous shots of her growing belly.
Just one month before she gave birth, the actress posed for a stunning photo shoot with photographer Elizabeth Messina. In the shoot, she wore all white, sporting lacy robes and lingerie. Plus, Kazee made a few lovey-dovey appearances, so we're guessing some of those photos are going to make it on the walls of their home.
Dewan and Kazee have been dating since October 2018, and they got engaged just last month. Dewan announced the news on Instagram on February 18th, showing off a lovely oval engagement ring that was custom-made by her close friend Nikki Reed.
We hope we'll eventually see a photo of the family of three all together, but for now we'll relish in these precious moments with Dewan and Kazee's newborn son.