Everything you should know about Jemel Roberson, the black man who stopped a shooter and was then killed by police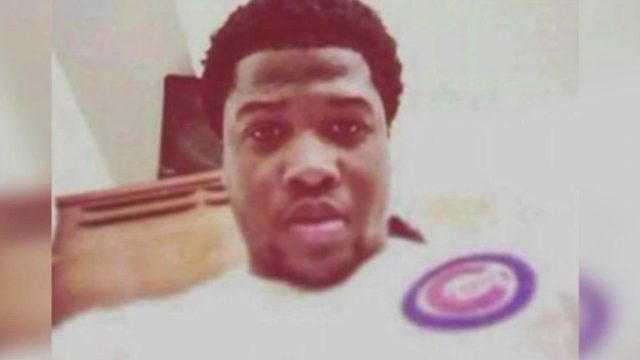 This week saw yet another tragic and unnecessary police shooting. This time, the victim was 26-year-old Jemel Roberson, a black security guard who stopped a shooting in progress, only to then be shot and killed by police. Chicago news station WGN-TV reports that on November 11th, Roberson apprehended a shooting suspect at Manny's Blue Room Bar in Robbins, Illinois. Witnesses told the station that security had asked a group of drunk men to leave around 4 a.m., and one of them returned and opened fire on the bar—endangering everyone present.
Witness Adam Harris told WGN-TV that Roberson "had somebody [the shooter] on the ground with his knee in back, with his gun in his back" when a police officer arrived on scene, mistook Roberson for the gunman, and shot him.
"Everybody was screaming out, 'Security!' He was a security guard," Harris said. "And they still [...] saw a black man with a gun, and basically killed him."
Police claimed it was difficult to identify Roberson as a security guard. In a statement obtained by NPR, Illinois State Police wrote that "a Midlothian Police Officer encountered a subject in plain black clothing with no markings readily identifying him as a Security Guard, armed with a gun in the west parking lot." The statement also said that the officer who shot Roberson gave him multiple commands to get on the ground and drop his weapon.
But witnesses told NPR that Roberson was wearing a hat that had "security" written on it. One witness, Jakia Woods, told NPR affiliate WBEZ that he was also wearing an orange vest and that it was "absolutely clear" that he was a security guard. NPR also reported that Roberson was licensed to carry the gun in his hand.
The Chicago Tribune reports that attorney Gregory Kulis filed a civil rights lawsuit on November 12th on behalf of Roberson's family. In a November 13th statement obtained by the Tribune, Midlothian Police Chief Daniel Delaney said that the department was "completely saddened by this tragic incident" and offered "heartfelt condolences" to Roberson's loved ones. The Tribune also reported that Midlothian officials said the officer is on paid leave while the state police department investigates.
https://twitter.com/udfredirect/status/1062011176211615745
According to the Associated Press, Roberson played keyboard at several churches in the area and wanted to become a police officer. One church he played at is led by Reverend Martin Hunter, who told the AP that he was "an upstanding young man." Roberson had a 9-month-old son, and a GoFundMe page has been set up to help his family pay for funeral costs.
It's heartbreaking that Roberson died while trying to protect others, and we sincerely hope the investigation into his death is both fair and thorough. Our hearts go out to all of Jemel Roberson's loved ones during this difficult time.