There are now jelly donut Oreos because there is still goodness in the world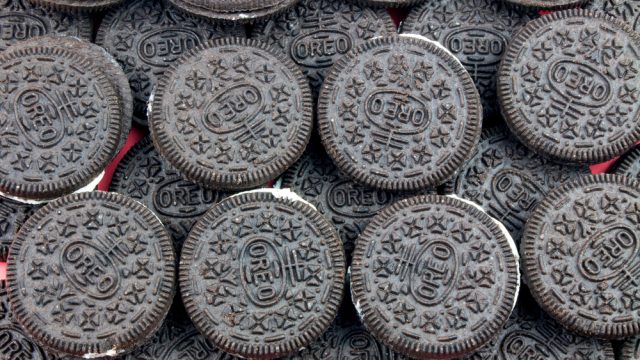 There are few things in the world that are better than donuts, but Oreo cookies come close. We do totally get why June 2nd was dedicated to the almighty breakfast delight and deemed National Donut Day. With that in mind, Oreos, the delectable black and white cookie we know oh so well, is releasing a jelly donut flavored Oreo.  Whoa! Is your mind blown? The limited edition features a golden Oreo cookie, and a 'raspberry jelly-filled' center in a custard ring.
It even has specially-designed packaging. Nothing like new colors to entice the eye.
Are you freaking out yet? We sure are.  Before you rush out and grab an entire cart full of these awesome sweet, you should know the jelly donut flavored creations are exclusive to Wal-Mart. The limited edition retails for the regular Oreo price, around $2.98. Now, go. Load up and spend the day in a jelly donut flavored daze.
Jelly donut isn't the only off-beat flavor the cookie company offers. In fact, there's a whole wide world of Oreo flavors we've yet to discuss.
Among the most interesting concoctions? Marshmallow Peeps-flavored creme. Oh yeah, it's real!
There was also Swedish fish Oreos. Huh. Chocolate Chip flavored Oreos. Better. Blueberry Pie flavored Oreos. Weird. Strawberry Shortcake flavored Oreos. Maybe? Brownie Batter flavored Oreos. Yum. Cotton Candy flavored Oreos. Huh, again.
Don't believe us? The proof is in the photos.
https://www.instagram.com/p/9nAP6UPIMR
As if those weren't inventive enough, the company will pay you 500,000 smackeroos if you come up with the next flavor concoction. They recently launched the #MyOreoCreation. According to their site,
"...Submissions can be any Oreo-inspired creation like a new  flavor… or any food item contain Oreo cookies (such as an Oreo Graham Crackers or Oreo Pancake Mix).
You don't have to tell us twice. We're breaking out our notepads and turning on the 'ole noggin to come up with a $500,000-worthy Oreo invention. We'll also scarf down a bunch of jelly donut Oreos for inspiration.