We dare you to look away from this JELL-O milk jug
There are a lot of weird things floating around out there on the internet, like cats sliding across floors into tiny boxes or seven-hour long videos of a pixelated cat with a rainbow coming out of its butt shooting across your screen. But we may have just discovered the most bizarre new YouTube trend ever. See this jug of milk?
It's not really a jug of milk. It's actually a Jell-O mold of a jug of milk. YouTuber Karina Garcia created a 'How To' video for people looking to try their hand at creating Jell-O beverages. Yes, it's a thing, guys. I don't have an answer for you as to why, but it's admittedly hard to look away from the process.
Karina starts by mixing a boat load of gelatin on the stove in batches. After emptying the milk jug (if it's not already empty), she fills it with the gelatin mixture and lets it sit in the refrigerator for eight hours. She then uses an X-acto knife to cut off the jug's plastic from the mold.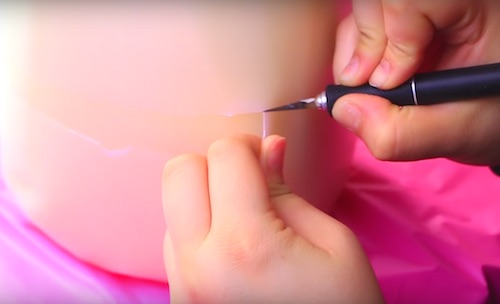 What remains is a Jell-O mold that looks startlingly like an actual gallon of milk. Karina prints out a milk label to put on the faux-milk gallon and puts the cap back on to make it look even more real. Then comes the most "satisfying" part — the whole reason for creating a Jell-O beverage apparently. She takes a knife and cuts it up …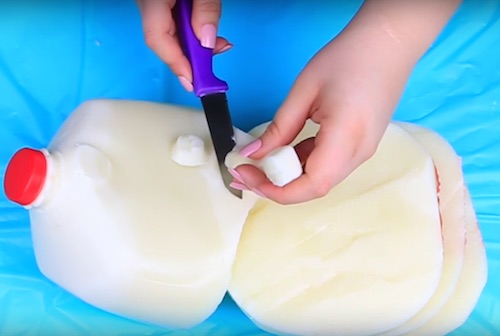 Behold possibly the weirdest (and strangely satisfying) online trend of gelatinous beverage molds and learn how to make one yourself with her video tutorial.
Karina gets her inspiration from other online videos like this bright Jell-O Fanta and this borderline creepy Coca Cola Jell-O hand mold.
I can't say that I'll be testing this one out myself any time soon, but it would be a fun craft to do with kids … or to just stare at in amazement on YouTube for a few hours.