Jeff Goldblum made a "Thank U, Next" parody video, and yes, Ariana Grande approves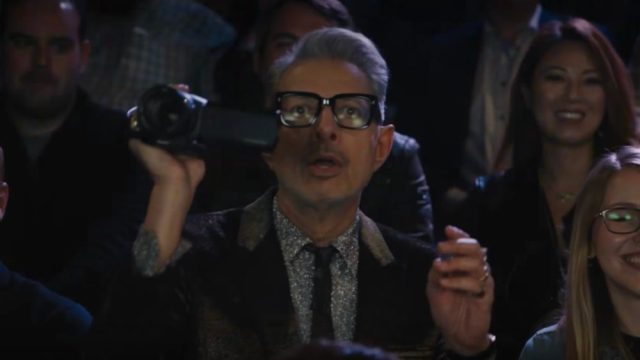 Ariana Grande's single "Thank U, Next" has officially reached cultural phenomenon status. There is an iconic music video, the phrase has become an everyday expression (our moms even use it), and it now even has its own parody video. Starring Jeff Goldblum and James Corden, no less. In a segment on the December 5th episode of The Late Late Show with James Corden, the host sees Goldblum in the green room, and—in order to show his appreciation for appearing on that night's show—simply says, "Thank you…Jeff."
Cue the music.
From there, we get an entire full-length music video of Corden crooning about how much he loves Goldblum and his work (all to the tune of "Thank U, Next" of course), with epic lines like, "On Thor: Ragnarok his performance was classic / Who could forget that hot doctor, that he played in Jurassic?" We also see Corden dancing on a Mean-Girls-esque stage with an assortment of Jeff Goldblum look-alikes as the actor films from the audience, à la Kris Jenner.
Okay, you just have to see it.
https://www.youtube.com/watch?v=EgIZuxavs3o?feature=oembed
And Grande is officially a fan. She wants that Jeff Goldlum burn book, too, fyi.
https://twitter.com/udfredirect/status/1070569560976355329
Thank you, James. Thank you, Jeff. Thank you, Ari. Because this just made our day 4,000% better.