Jeff Goldblum is here to tell you whether he's dead or alive in his autocomplete interview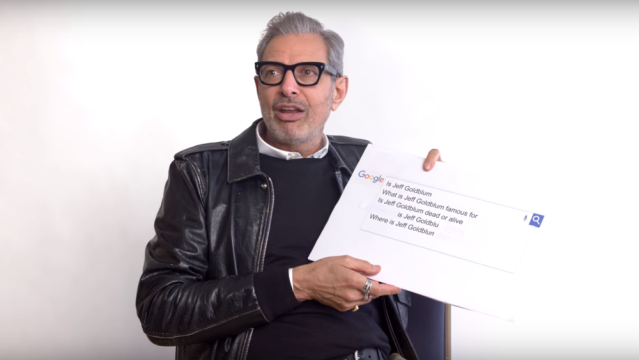 Good news: It turns out we are not, in fact, the only ones who spend most of our free hours pondering the answers to important questions like "How tall is Jeff Goldblum in feet?" and "Why did Jeff Goldblum leave Law & Order: CI?" Nope, the many Jeff Goldblum admirers of the world apparently have a lot of questions about the oddly charming object of their devotion, and this week, thanks to one of Wired's Autocomplete Interviews, they got their answers from the man himself.
And predictably, Goldblum offered up plenty of personal gems.
If you're not familiar with the autocomplete interview format, it goes a little something like this: Stars sit down with Wired's team with cameras rolling and proceed to unveil the autocompleted questions people frequently Google about said celeb. They then go on to answer those questions as best they can, and hilarity and candor typically ensue.
"Does Jeff Golblum have a son?" "I don't have a son, I have *two* sons."
"What is Jeff Goldblum famous for?" "[Hearty Goldblumian laugh] If you don't know, I'm not going to tell you."
https://www.youtube.com/watch?v=_l4xtcmrT6g?feature=oembed
Aside from straightforward fun facts (Goldblum is 6 foot 4 inches "and a skosh," for example), the video also features a few deeper peeks into Goldblum's personality and life. One questions whether his famous speaking style — i.e. his "Life, uh, finds a way" rambliness — counts as a stutter. "Not in the conventional sense, but I do phumpher a lot," Goldblum explains. "That's an affectation of my own making, not an involuntary [behavior]."
Another asks about how he met his third and current wife, Emilie Livingston Goldblum. "I saw her from across a crowded room and I marched up to her, entranced, and began some kind of conversation," he says of their L.A. gym introduction.
Later in the video, Goldblum delves into his new movie, Wes Anderson's Isle of Dogs (the project he's been promoting on this latest press kick).
Goldblum voices an alpha pup named Duke in the stop-motion film, and when the interview asked a vague question about his character's job, the actor took the opportunity to plug his work.
"If you're talking about my character in Isle of Dogs, my job is to be devoted to love. And to devotion itself. And to help the little boy find his lost dog!"
(The only thing that could have improved that answer would have been if he gave it while snuggling with a puppy like he did at a recent Isle of Dogs screening.)
Goldblum's list of kooky, instantly viral hijinks on this publicity tour has only gotten longer. He's recited Real Housewives lines. He's made us uncomfortable with his shirtless Funko figure. He, again, HELD ACTUAL PUPPIES.
Whatever he does next, we'll just be here waiting. And probably Googling where Jeff Goldblum is from. Oh, right. Pittsburgh.