Jeff Goldblum met his shirtless "Jurassic Park" doll and immediately made it weird, because of course he did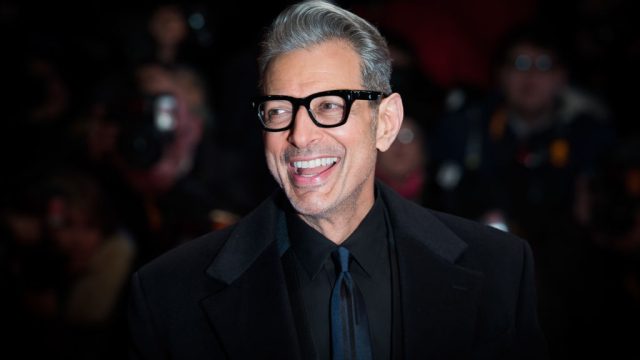 In case you missed the memo, Jeff Goldblum is a Hot Older Man now. He works the whole silver fox thing. People on Twitter even call Goldblum "daddy." He has aged into that kind of worn-in sexiness, like a faded pair of mid-wash Levi's. Now, Goldblum has two new commemorative Jurassic Park character dolls. And he's already decided that one of them is "the sexy one." Because of course he has.
When visiting Conan on Friday, March 16th, Goldblum got to see his brand-new Funko Pop character dolls. You know, those plastic figurines with the giant heads modeled after our favorite pop culture personalities. One of the figures looks like a standard doll version of Goldblum's Jurassic Park character Ian Malcolm. The other, however, is modeled after Goldblum's iconic shirtless scene in the film.
Of course, when Goldblum got his hands on the dolls, things got weird. O'Brien offered the shirtless doll to Goldblum, saying he should touch its nipple. Jokes were then made about dog nipples. At one point, Goldblum looked poised to make another dirty reference but stopped himself. "Nevermind," he laughed. "I was gonna do something I oughtn't."
We'll soon get to see more of Goldblum. He's reprising his role in the upcoming Jurassic World: Fallen Kingdom movie. Will we also get to see him reprise his shirtless scene? Somehow we think he's only gotten better with age.
Watch Goldblum make it weird with his shirtless Funko Pop doll below.
https://www.youtube.com/watch?v=5NTM30biemY?feature=oembed
Goldblum recently explained how that scene came about in an interview with Yahoo.
"It's supposed to be Costa Rica, right? So things are hot and I'm sure I'm in some sort of fever. So all the logic is that we gotta get some of these wet clothes off immediately," he said. "As I remember, I don't think anybody fought me on that."
Whatever you say, Jeff.