Jeff Goldblum reciting *iconic* "Real Housewives" lines is the content you didn't know you needed, but you deserve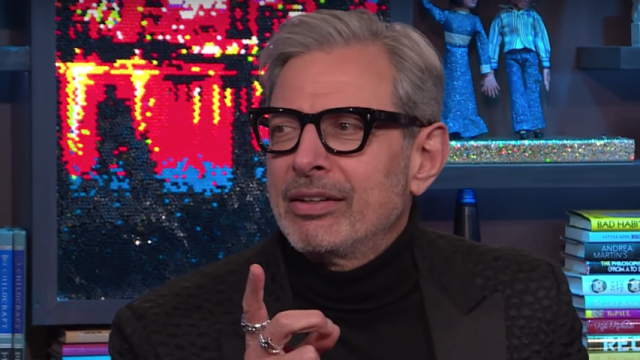 Bravo has inspired a whole new kind of celebrity with all of its reality shows, and those celebrities are endless gold mines of hilarious one-liners. But even if you aren't a die-hard fan of Bravo-lebrities, there is one man who can make you an instant Bravo fan. And that man, the myth, the *legend* is Jeff Goldblum.
The Jurassic Park icon went on Andy Cohen's Watch What Happens Live late last night, March 26th, and competed in a friendly game against Alan Cumming of "Bravo-logues," in which the two actors did cold readings of Bravo one-liners. And yeah, it was as legendary as it sounds. This is what happens when you get Jeff Goldblum on your show, people. TAKE NOTE.
Goldblum and Cumming went head-to-head doing their best interpretations of famous Bravo lines recited by Real Housewives of Atlanta's Sheree Whitfield, Vanderpump Rules' James Kennedy, and Real Housewives of New Jersey's Danielle Staub. Even if you have no idea who those people or shows are, this is still the content for you. Because Goldblum didn't either, and his line readings were instantly classic. This man can make compelling drama out of anything, so why should reality shows be any different?
Whatever it is that inspires Goldblum to keep on Goldbluming is absolute magic.
Check out the video below:
https://www.youtube.com/watch?v=eYyX769zVuY?feature=oembed
Okay, but we've got a major gripe with Cohen's judging skills. Goldblum is the *clear winner* here, because even though Cumming's readings were funnier, it was only because Cumming was given the more "sultry" lines! Goldblum was set up for failure, and despite the uneven odds being stacked against him, he still pulled out a winning performance. Is there anything this man can't do? Answer: no.
So despite the fact that Cohen declared Cumming the winner of this little game, Goldblum is the real winner in all our hearts, and that's what matters most of all, right? Right!