Looks like the (epic) Jean-Ralphio and Steve Harrington meet-up was a very hilarious segment for "The Late Late Show"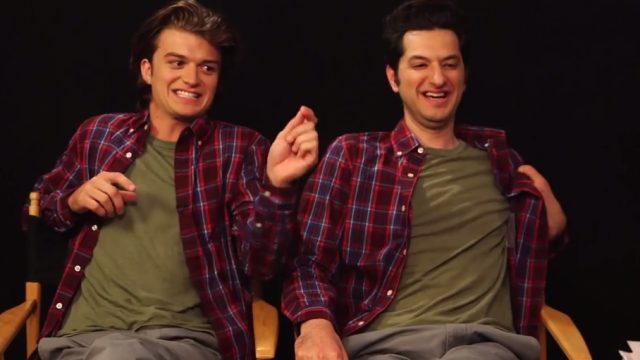 If you're a fan of Parks & Recreation and Stranger Things, you've likely heard of the theory that's being circulated around — Jean-Ralphio (played by the very funny Ben Schwartz) is supposedly the lovechild of Steve Harrington (Joe Keery) and Nancy Wheeler (Natalia Dyer). In a side-by-side comparison, the resemblance is pretty uncanny. And with Schwartz totally going along with the theory, it seemed like perhaps television fanatics were onto something.
The Late Late Show With Jame Corden took it one step further, after they invited Keery and Schwartz on set to meet. While not in character, the two realized that they have plenty of similarities outside of appearance. This might just be the best thing that happened on late night television this week:
https://www.youtube.com/watch?v=fUd8yZlZxII?feature=oembed
The moment they realize they're doing the same thing at the same time? Amazing.
Now, if the Duffer Brothers really wanted to be in on this joke, they'd give Ben Schwartz a small role in season two of Stranger Things. Sure, actually casting him as Jean-Ralphio, child of Steve will probably ruin all of the plotlines they've already established. And, of course, the timeline would be somewhat ruined. But! It'd still be great to see our favorite Parks & Recreation bit player rub shoulders with the Stranger Things crew.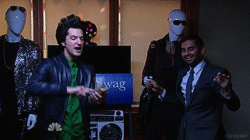 While getting hit by a Lexus would be pretty impossible (after all, they debuted in 1989) maybe an accident involving a Toyota could take place in Hawkins, Indiana. Or, even better (and easier!) — maybe Parks & Recreation can just come back on television. Forever. Make it happen, Mike Schur and Greg Daniels!