Jay-Z's scratchy vocals on "4:44" are all thanks to a mold problem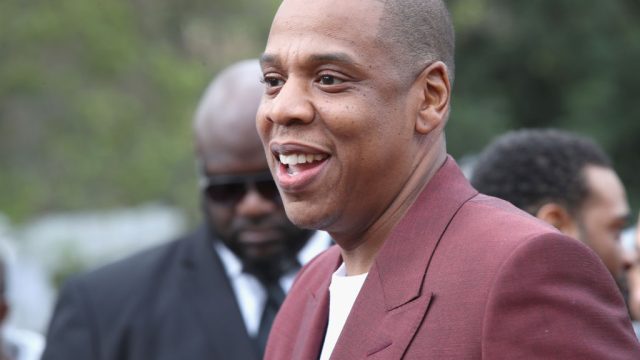 Jay-Z's recent album, 4:44, has been helmed as "Best New Music" by Pitchfork. It was called "vulnerable…and dazzling" by Rolling Stone. It's an epic record, full of apologies to Beyoncé and vital pop culture commentary. Its name might be a nod to that infamous elevator incident. ICYMI, Bey reportedly approved of every song ahead of time. And now, we just learned another detail about the album.
Some of what makes 4:44 great — Jay-Z's scratchy, deeper vocals — are courtesy of a mold outbreak in the Los Angeles house he was staying in at the time of recording. Yes, really.
The musician did a candid hour-long Tidal interview where he discussed many parts of how the record was made. He revealed that mold caused him to get sick while working on the tracks "Smile" and "Moonlight." But undeterred, he did the vocals anyway.
Luckily, the decision ended up working out in his favor.
"It gave it like a vulnerability on its own. These things would just happen as far as the vocal production."
https://www.youtube.com/watch?v=FCSh48OlvMo?feature=oembed
In the interview, Jay-Z also talked about the album's economy of space.
"This album has a lot of topics that's why it had to be so short, it's so condensed," he added. "It's so dense with subject matters and all these other things that if it was longer, you wouldn't be able to take it; it would wear you out. It had to get to a point really quickly."
And perhaps most importantly, he addressed that controversial elevator incident. To recap, TMZ released a video that showed Solange Knowles hitting and kicking Jay-Z in an elevator. Jay-Z has since apologized on the track "Kill Jay-Z." And he appears to be taking it in stride, and pointing out that now all three of them have produced recent critically-acclaimed records.
"I think we went into the elevator as great artists. I've always loved Solange's music; I thought she was slept on until this last album… I think B made an incredible album before, a hundred of them."
We're very into this candid Jay-Z. Here's hoping all three of them team up for new music sometime soon.