Jay-Z's new album contains a heartfelt ode to his mom for coming out later in life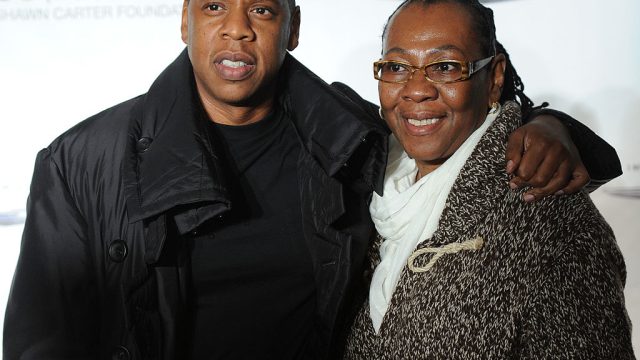 We're not sure how anyone managed to get work done today because Jay-Z's 13th album 4:44 hit Tidal, and it features a collection of deeply personal songs that have fans completely shook. One such song titled "Smile" includes a heartfelt ode to Jay-Z's mom Gloria Carter, who came out as a lesbian later in life.
What makes the lyrics to "Smile" even more heartfelt is a cameo by Jay's mom herself, who appears on the song to add more perspective and depth to her son's recollection of what it was like for her to conceal her sexual identity.
On the song, Jay raps:
"Mama had four kids, but she's a lesbian / Had to pretend so long that she's a thespian / Had to hide in the closet, so she medicate / Society shame and the pain was too much to take / Cried tears of joy when you fell in love / Doesn't matter if it's a him or her / I just wanna see you smile through all the hate."
Jay-Z's mom follows up with her monologue, painting a vivid picture of the emotions she experienced before coming out.
"Living in the shadow / Can you imagine what kind of life it is to live? / In the shadows, people see you as happy and free / Because that's what you want them to see / Living two lives, happy, but not free / You live in the shadows for fear of someone hurting your family or the person you love."
She closes out her contribution by declaring that while "living in the shadows" felt like the safest place for her, she chooses to be free and love who she wants to.
Between addressing Beyoncé's miscarriages and the couple's alleged relationship issues and going public about his alleged rift with Kanye West, it's apparent that Jay-Z laid it all out for the masses on his latest album. The inspiring candor he and his mom exhibited on their duet is just one reason why we'll be talking about 4:44 for a long time to come.