Jay-Z's "Family Feud" music video features a who's who list of female Hollywood A-listers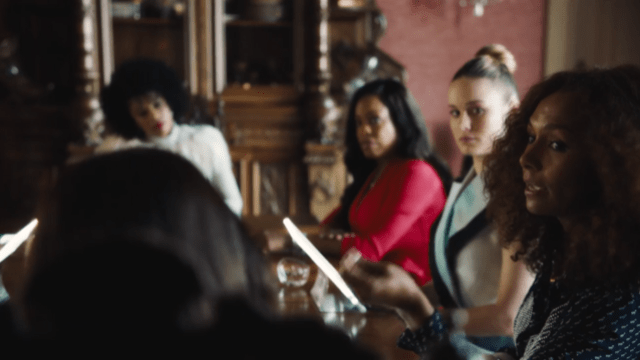 The world pretty much stopped on Friday, December 29th, once Jay-Z's "Family Feud" music video premiered. Let's just say, the preview clip released the day prior was just that — a mere hint of what was to come. What appeared to be a simple visual, seemingly drawing reference to the rumors of Jay-Z's infidelity, turned into something so much more. Together with director Ava DuVernay, Jay-Z explored a world where today's most disenfranchised groups held the most power.
And fans all over the internet couldn't help but fall in love with the concept.
The video features indigenous people, black people, and women of different ethnicities tasked with leading the government in the right direction. But what impressed viewers the most was the star-studded cast of powerful women, better known as the Founding Mothers. Mindy Kaling, Janet Mock, Jessica Chastain, Brie Larson, Constance Wu, Niecy Nash, Rosario Dawson, America Ferrara, Rashida Jones, and Thandie Newton totally stunned in the music video. But Susan Kelechi Watson, who played an adult Blue Ivy, was the icing on the cake.
We've all completely fawned over the talent of several of Jay-Z's Founding Mothers, one time or another. But seeing them act as a governing body just unleashed a whole new level of fandom. One look at this masterpiece of a collaboration, and you'll never be the same again.
Jay-Z's "Family Feud" shows us what the world would look like if women ruled.
And it's not half bad.
You can watch the full-length video exclusively on Jay-Z's Tidal. The streaming service is offering a free trial over the holidays, so take advantage of it while you can.
Leave it to The Carters to get the masses excited about a new and improved America — even if it is fictional.