Jay-Z explained why he and Kanye West still have beef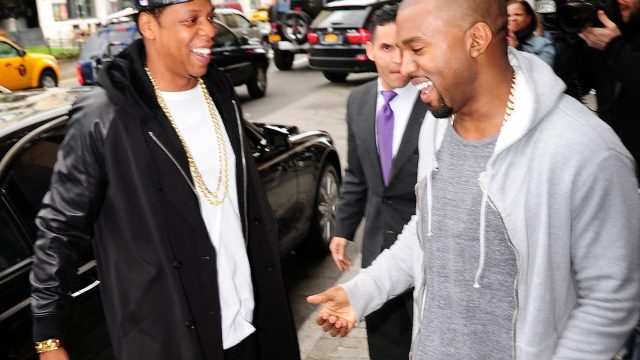 Sometimes, even your closest friends cross a line. That was certainly true for Jay-Z, who explained in a recent interview why he still has beef with Kanye West. And after hearing his reasons, we can't say that we blame him.
In the interview with Rap Radar, a podcast available exclusively through Tidal, Jay-Z touched on the beef with West, which began during Ye's last tour. During a couple of stops on the tour last year, West made remarks about Jay-Z, Beyoncé, and their daughter, Blue Ivy, first saying that Blue had never played with his children, and later saying he was hurt by something Bey reportedly said about him.
"Beyoncé, I was hurt because I heard you said you wouldn't perform unless you won Video of the Year over me and over 'Hotline Bling,'" West said on stage in November in Sacramento, California. "In my opinion — now don't go dissing Beyoncé, she's great. Taylor Swift is great. We are all great people. But sometimes we be playing the politics too much and forget who we are just to win...Jay-Z, call me, you still ain't called me...Jay-Z, I know you got killers. Please don't send them at my head. Just call me. Talk to me like a man."
Understandably, Jay was not happy that West brought his wife and daughter into a conflict; while it's one thing to address Jay-Z directly, it is another to involve his family.
In the interview, Jay-Z said can't move past that the way he can move past other things.
"What really hurt me was, you can't bring my kids, my wife into it. Kanye's my little brother," he said, "but you brought my family into it, that's a problem."
Normally, Jay said, the two can speak candidly and resolve their issues. But Jay-Z revealed that they haven't dealt with this issue because West knows that he crossed the line. So, until he owns up to that, they will have beef.
Jay said,
"You know it's a problem because me and him would have been talked about it, been resolved our issues. And he knows he crossed the line, he knows. And I know he knows. Because we've never let this much space go between one of our disagreements, and we've had many. It's a part of who we are.
Of course friends fight, and true friends will resolve their issues. But there are definitely points where maybe it's just too far.
To be fair, West's wife, Kim Kardashian West, had recently been robbed in Paris when West made his comments about Jay not calling him, so he was probably just hurting when he brought Bey and Blue into the beef. Hopefully, someday, these two can be friends again. It would be awesome to see Watch the Throne Part 2!