Jay-Z dedicated a song to former Linkin Park frontman Chester Bennington, and our hearts are breaking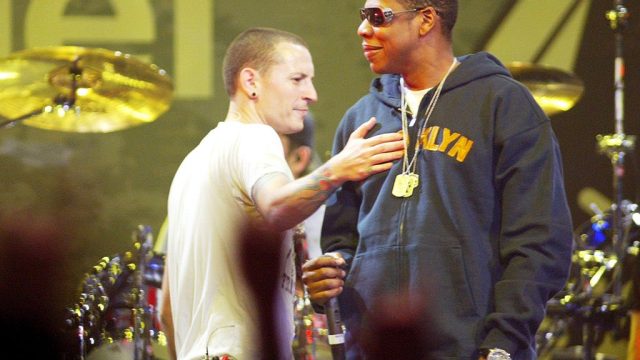 When the news of Linkin Park frontman Chester Bennington's death broke earlier this month, it rocked the entire music community. Fans and fellow artists alike took to social media to send condolences to the artist's family and pay tribute to the fallen rockstar. This weekend, during a performance at Virgin's V Festival, Jay-Z dedicated a special song to Bennington, and our hearts just can't take it.
If you remember, back in 2004, Linkin Park and Jay-Z collaborated on an EP titled Collision Course. So it was only right that Jay-Z honored his late friend by performing a track from their time together.
Jay-Z went with "Numb/Encore," arguably the most popular song on the EP — it even won "Best Rap Collaboration" at the 2006 Grammy Awards.
"Can you guys light it up tonight for Chester?" Jay asked the crowd. "Linkin Park, one time, tonight. Please make some noise so he can hear you all the way in heaven tonight!"
Watch the incredibly touching tribute below:
https://www.youtube.com/watch?v=pkpBX6EeMv8?feature=oembed
The singer was recently found dead in his Palos Verdes Estates home, the cause of death being ruled as suicide. Based on the outpouring of love following the tragic news, it's clear Bennington touched many, many people with his music.
Taking to Instagram, Rihanna wrote, "Literally the most impressive talent I've ever seen live! Vocal beast! #RIPChester #LinkinPark".
Chance the Rapper tweeted, "RIP Chester. Tragic ending. Condolences his family and friends and Linkin Park ??"
Shoutout to Jay-Z for reminding us how truly iconic Chester Bennington was — he will forever be missed.
If you are struggling with thoughts of suicide or if you are worried about someone you know, call the National Suicide Prevention Lifeline at 1-800-273-8255 or chat with counselors online here. All services are free and available 24/7.