Jay-Z has 99 problems, and Blue Ivy not listening to his instructions is merely one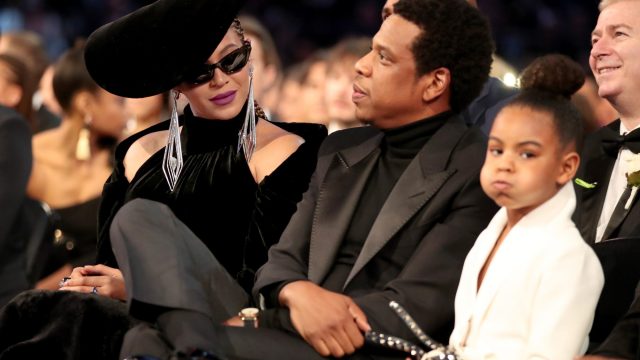 Just in case you needed another reason to fall in love with Jay-Z and Beyoncé's daughter, Blue Ivy, here it is. During an appearance on David Letterman's Netflix series, My Next Guest Needs No Introduction, papa Jay-Z told the best story about Blue, and not only does it show that she's sassier than any of us has ever fully understood, but also that her parents are raising her to stand up for herself and get in touch with her feelings.
In a clip from his episode, Letterman asks Jay-Z about the way Blue Ivy is growing up, considering it's so different from the way he grew up in the projects. This prompts him to talk about a recent conversation he had with his daughter, which really showed how comfortable she is talking to her parents about anything — even if she thinks they've messed up.
Basically, they were trying to get to school and Blue Ivy wouldn't stop talking, so her dad told her to get in the car. A few minutes later? She just had to speak up.
"We're driving, and I just hear a little voice say, 'Dad?' I turn around, and she said, 'I didn't like that you told me to get in the car the way you told me. It hurt my feelings.'"
Blue! OMG! For a 6 year old, that emotional intelligence is off the charts.
https://www.youtube.com/watch?v=rM7ZSfBXkYI?feature=oembed
Best of all, it sounds like Jay-Z was pretty happy that Blue shared that thought with him, because he added, "That's the most beautiful thing you've ever told me!"
Watching Blue Ivy grow up is the best, and this story is the perfect example of why. Actually, it's just proof that Jay and Bey are killing the parenting game. Now, if they'd just share more photos of Sir and Rumi, we'd be all set.