Jay-Z and Beyoncé just dropped a surprise joint album called Everything Is Love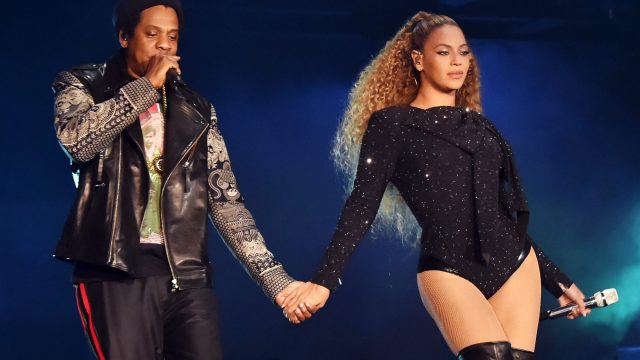 STOP EVERYTHING RIGHT NOW. Are you sitting down? Good. Because Jay-Z and Beyoncé officially just dropped a surprise joint-album, today, June 16th.
The album, titled Everything Is Love, is currently available to stream on Tidal, Apple Music, and Spotify, and features nine tracks, all of which are credited to both stars. Beyoncé teased the news on her Instagram page, posting the album cover, as well as a (gorgeously curated) music video for the first single, "Apesh**t". The six-minute video was filmed entirely in the Louvre.
You can watch it full-screen below (note Beyoncé CRUSHING the rap sections. Is there anything she can't do? But seriously. We're seriously asking). The couple premiered the video during the close of their latest On the Run II tour stop in London.
https://www.youtube.com/watch?v=kbMqWXnpXcA?start=1&feature=oembed
And Twitter, of course, is having a verifiable meltdown.
false
false
https://twitter.com/udfredirect/status/1008108648395132928
And because we know you're curious, here's the full track list:
01. SUMMER
02. APES**T
03. BOSS
04. NICE
05. 713
06. FRIENDS
07. HEARD ABOUT US
08. BLACK EFFECT
09. LOVEHAPPY
There's also a bonus track called "Salud."
The couple gets extremely candid on the album, opening up about their marital struggles, as well as their journey back to solid ground. Critics are noting that the songs feel like the final installment of a trilogy with Beyoncé's Lemonade marking a period of marital strife, Jay-Z's 4:44 detailing his indiscretions and taking responsibility for his mistakes, and, finally, Everything Is Love showcasing the couple as a solid and united front.
If you don't already have a Tidal subscription, you can get a free trial in order to listen to this ear gold ASAP here.