This dad's joke about his daughter's prom date sets off Twitter debate about gun safety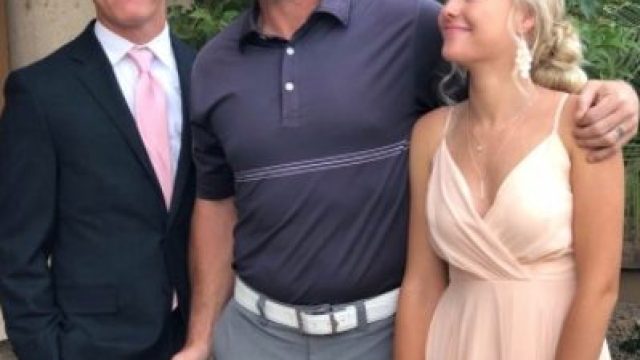 Prom season is upon us, and for parents with kids who aren't planning to skip the dance to see Avengers: Infinity War, that means getting to take those obligatory and oh-so-memorable prom photos everybody loves. However, one dad — former NFL player Jay Feely — decided to jump in a photo with his daughter and her prom date over the weekend. In the image, which he posted to Twitter, he's got one arm around his daughter as she rolls her eyes at him with a smile on her face. His other hand? It's holding a gun.
And, okay. We all know the joke. You send your kid off to prom and give their date a "warning" to bring them home in one piece. In the photo, Feely's daughter's prom date appears to be in on the farce, which is a reference to this scene from Bad Boys 2. (Warning: The clip contains a *lot* of NSFW language.)
While the photo seems to have been shared in good fun, it quickly prompted a Twitter debate about gun safety in the United States. Some Twitter users agreed it was just a joke, but others pointed out that there's no humor in the inappropriate photo, considering the current political climate around school shootings and gun violence.
Though it might have started as a joke, Feely's tweet sparked a conversation about the nature of responsible gun ownership.
Many were understandably frustrated by Feely's seemingly lax attitude toward guns. Plus, there's the problematic implication that he doesn't trust his daughter to make her own decisions.
https://twitter.com/udfredirect/status/987918429926641664
false false
Others felt that Jay Feely clearly meant no harm by the gag.
false
Jay Feely followed up his original tweet to say he believes gun safety is incredibly important.
Regardless of which side you're on, we're glad Feely took the initiative to emphasize that gun safety matters. Common-sense gun control is absolutely vital, and the safety of our schools, homes, and communities is paramount. We hope more people take this issue seriously as we come together to find a solution to end gun violence.