Twitter is officially obsessed with Jay Cutler after the Very Cavallari premiere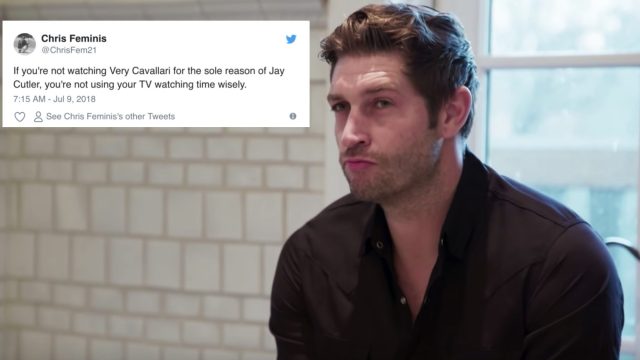 It's been eight years since the series finale of The Hills, and Kristin Cavallari has been busy. She married former NFL star Jay Cutler, welcomed three adorable children, and launched her own fashion and jewelry line, all while she continues to act and write. But Cavallari knows we've missed seeing her on our TV screens, so thankfully, she's back in a new E! docuseries appropriately titled Very Cavallari.
In the show's series premiere on Sunday, July 8th, we got to catch up with the reality star and learn all about her life as a working mama. However, it was her husband, Jay Cutler, who really stole the show. Cutler, a retired quarterback, managed to win our hearts with plenty of shrugs, sighs, and distant stares…and we loved every minute.
But perhaps our favorite moment occurred when Cavallari asked her hubby what he plans to do post-retirement. His response? "I'm not really looking to do a lot of work right now. I'm looking to do the exact opposite of that." Jay…we get you. We really, really get you.
And Twitter can't stop talking about reality TV's new breakout star.
https://twitter.com/udfredirect/status/1016159047714791424
false
Some even gave Cutler credit for the show's "scripting," and LOL.
It's safe to say that Cutler won his fair share of new fans, instantly becoming the reality TV star we never knew we needed.
https://twitter.com/udfredirect/status/1016211536593936384
false
All jokes aside, we're so happy to have both Cutler and Cavallari back on our screens each week, and we can't wait to tune in for the rest of the season to see our new favorite reality husband in action.