Jason Momoa wished his wife a Happy Birthday in the most "Game of Thrones" way ever
While he could not be with his wife on her birthday, Jason Momoa still wished a happy birthday to Lisa Bonet through Instagram. And while we're sure that made Bonet happy (even though she isn't on the social media platform), we KNOW it definitely made Game of Thrones fans happy. That's because he channeled his Game of Thrones character Khal Drogo for his birthday message.
Khal Drogo wasn't known for being overly sentimental, but there was one major exception — his wife Daenerys Targaryen.
Although Drogo has been dead on Game of Thrones for a long time now, you probably don't need any help remembering that the fierce Dothraki warlord used to call Daenerys his "moon of my life."
And so Momoa used this celestial term of endearment to wish Bonet a happy birthday.
He wrote:
"Moon of my life Partner in crime. I fucking love u baby happy birthday Sad I'm not home. 😍😍😍😍😍😍😍aloha SB"
His message came with a quirky throwback pic of the couple, featuring him in a top hat (Momoa actually rocks top hats a lot) and Bonet in a fuzzy deer hat with antlers, since he couldn't be home. And based on his other recent Instagram posts, he has been traveling a lot, but has promised his lovely family that he'll be back soon.
While you were probably already enamored by Bonet and Momoa's beautiful marriage, what makes this post even better is that there is already a meme out there of Khal Drogo saying, "Happy birthday moon of my life." So Momoa not only sent a sweet message to his wife, but pretty much fulfilled Game of Thrones fans dreams as well.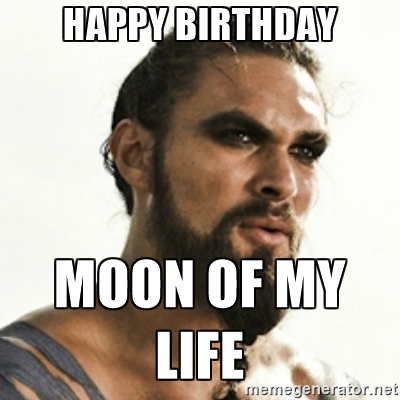 Now, if you want to wish your loved one a happy birthday Dothraki style, TV Guide can help. They provided these loving Drogo and Daenerys phrases in Dothraki back in 2011. Here's their Dothraki lesson:
Yer jalan atthirari anni — You are the moon of my life. (Used when addressing a beloved woman since the moon is seen as female)
Shekh ma shieraki anni — My sun and stars (Referring to a beloved man since the sun is the male counterpart to the moon)
So get to practicing and then you can wish a happy birthday to your loved one just like Khal Drogo Jason Momoa. And happy birthday to the badass woman Lisa Bonet!