Jason David Frank, aka the Green Ranger, just escaped a real-life assassination attempt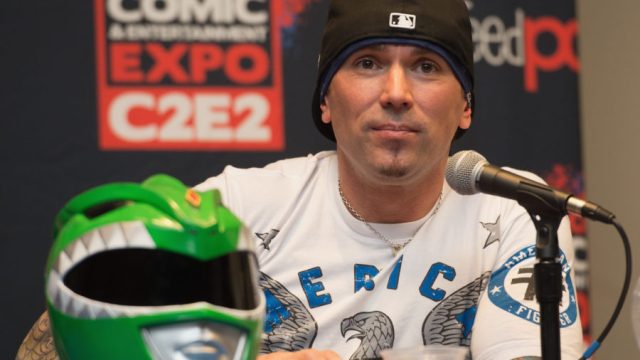 Thanks to fast-acting Phoenix police officers, tragedy was narrowly avoided at Phoenix Comic-Con. Jason David Frank, aka the Green Ranger, was the target of an attempted assassination at Thursday's Comic-Con in Phoenix, Arizona.
According to People.com, the Phoenix police arrested Mathew Sterling, who made it into the convention carrying an arsenal including three guns and a knife. His goal was to kill Frank and "bad police officers," as Uproxx reports. Sterling even set a reminder on his smartphone reading "Kill JDF" and posted photos of himself and his weapons on social media. Those photos were immediately reported by a fellow social media user.
Police thwarted Sterling's plan before he was able to close in on Frank.
Frank held a news conference with Fox 10 Phoenix expressing his gratitude for Phoenix police.
"I'm very grateful to the Phoenix police department for their brave and outstanding efforts, which avoided a terrible tragedy, as recently seen at the concert in Manchester."
"This incident is an eye-opening situation to increase and add more securities to all Comic-Cons around the world," Frank continued. "Due to the increased securities for the duration of the show, we are banning all prop weapons, however, please do not let this hinder your creativity in the festival atmosphere."
Phoenix police confirmed that Comic-Con authorities have heightened security measures by making sure that all prop weapons sold by Con vendors stay in the packaging until they leave the event. Additional screenings will take place upon entering the event as well.
Frank thanked fans for their support via Facebook Live. He said,
"You will start hearing stuff on social media. I'm fine. I'm okay. Love y'all. Even though it looks like things don't faze me, I refuse to have a situation tear me apart mentally. You gotta remember, things could always be worse. Things could've been worse. But it wasn't. You know, everyone is safe, things are okay, and it's a great thing."
We're glad this situation ended before it had the chance to escalate, and we're so incredibly thankful that no one was harmed.