These are the beauty products one HG writer uses to go from chill AF to glamazon
Welcome to The Beauty Files, where HelloGiggles editors and contributors share what exactly they put on their faces, and why. We want to take you on this voyeuristic journey because we believe makeup means something different for every single person — applying makeup is a conscious, intimate decision we make almost every single day, and there's usually a method behind the madness. Join us every week as we spill the beans on beauty products, and feel free to submit your own Beauty File. E-mail us at [email protected]!
Hey all, I'm Jascmeen, a contributor for HelloGiggles and some of your other favorite style and beauty sites. I'm lucky to have access to a slew of freebies, but there's a downside. Since I'm constantly trying out new stuff to review, I also tend to put my skin through unnecessary stress. To balance it all, I use a handful of beauty staples that I know work for me, while still leaving room to review products.
8:30 a.m.: My Morning Routine
On this particular day, I planned on writing outdoors then running a few errands, so I went for a mid-level "glam" routine. (If you can even call it glam LOL.)
I start my morning with what I call a "shower mask." These are my fast-acting masks that only take a shower's worth of time to work and deep clean my skin from the oils I apply at night.
My favorite shower masks include the Freeman Mint and Lemon Clay Mask ($4.29) which helps dry out breakouts, the Neutrogena Clear Pore Mask ($5.99), or the Coco Kind Turmeric Mask ($8.99) for fading dark spots. Masks are one of the most gifted items for me to review, and I don't like wasting pricey goods. I use the good stuff at night when I have time to let them do their thing.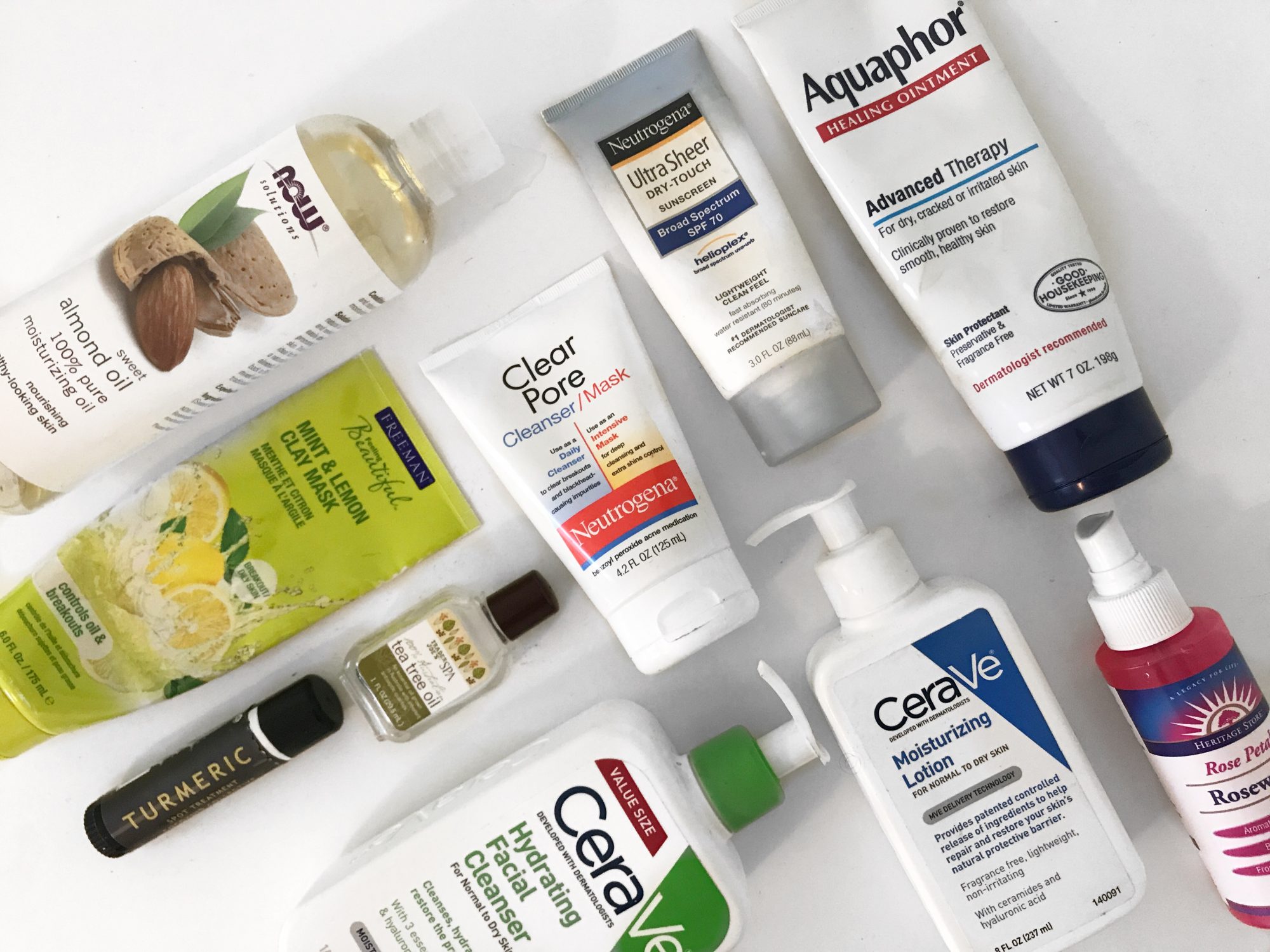 After my shower mask, I cleanse with the CeraVe Hydrating Cleanser ($14.99). I was first attracted to the super serious packaging, but after skimming the ingredients I was sold. Hyaluronic acid, non-comedogenic, and oil-free? Yes, yes, yes. Back in the day, I would try out any and everything that was sent my way or any cool product that was trending. Not anymore. I know what my skin likes and what active ingredients work on my dry, acne-prone skin. Even if something seems super cool, I just won't review it if it's got a risky ingredient. (I'm looking at you coconut oil, sorry it didn't work out between us.)
After cleansing, I treat any breakouts I may have with tea tree oil. I'm currently using the Trader Joe's version but I think the Body Shop's is better. I've tried and reviewed a number of acne spot treatments, but tea tree oil is the best for me. Sadly, I have the most sensitive eyes ever created so I can't use it anywhere near my eyes, not even on my cheekbones. The scent makes my eyes water like crazy, even if the tea tree oil is diluted.
Next, I proceed to completely overdo it on the rose water. I'm currently using a version by Heritage Brand ($6.25), and when I run out I'll repurchase the version by Coco Kind. It's pricier at $16.99, but my spidey senses tell me that since Coco Kind's smells more like roses, it's probably more legit.
If I plan on working in my apartment all day, I moisturize with almond oil and stop there. Since I'll be outdoors today, I'm using the Neutrogena Ultra Sheer Dry Touch Sunscreen in SPF 55 ($8.45) then the CeraVe Moisturizing Lotion ($11.29). I love my almond oil, but if I plan on wearing any makeup I need to give it time to absorb since it doesn't get along with makeup. Most of the time I don't have the patience to wait for the almond oil to behave, so I go for the CeraVe when makeup is on the menu.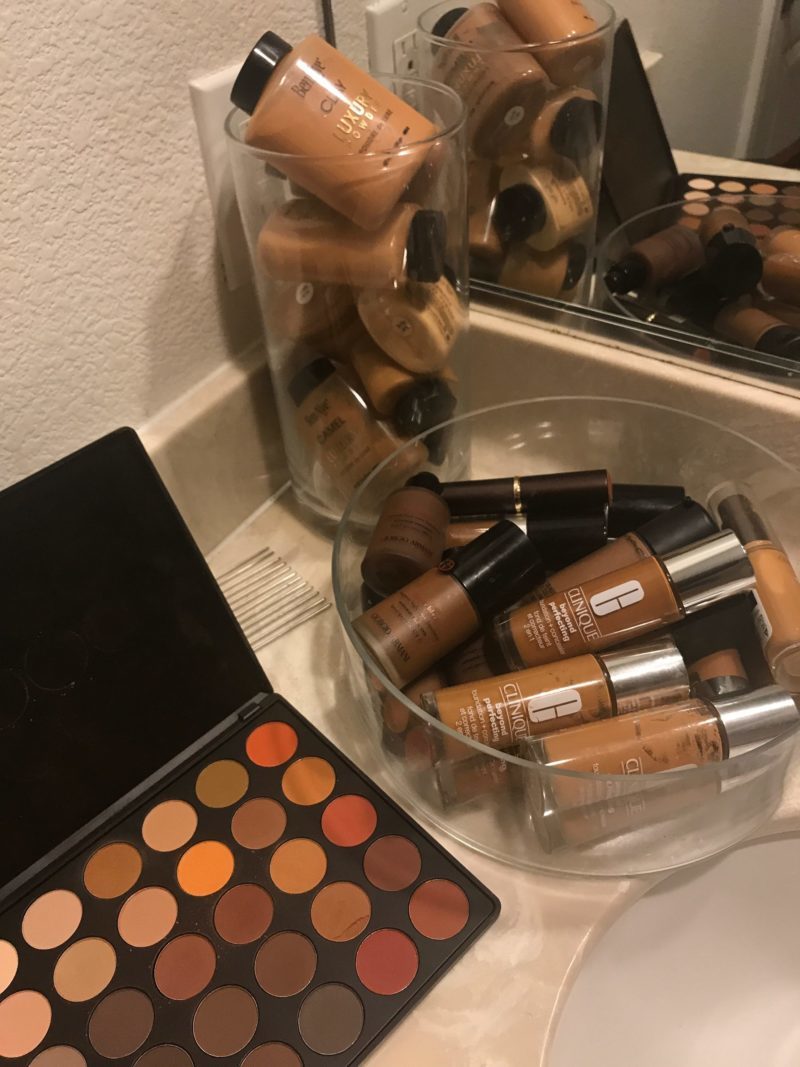 Since I'm a freelancer and work from home, I actually don't wear makeup every day. Truth be told, even when I worked in an office I didn't wear makeup every day. I'd much rather get the extra sleep. When I do wear makeup, I always wear the same sort of products. I mostly focus on covering my under-eye circles and acne scars, brightening my eyelids, and getting my brows under control. The extended version of "A Love Bizarre" by Sheila E is my makeup song. I know that by the time it's over I should really be finished. It's a 13-minute song!
My makeup situation is a mix of staples I've loved since high school and products I'm currently reviewing. My staples — Smashbox Photo Finish Primer ($16), Urban Decay Eyeshadow Primer Potion ($22), MAC brow pencil in Stud ($18), Iman Luxury Pressed Powder ($20) to contour with, and my personal lip kit — Aquaphor ($4.99). It's really the best "nude lip."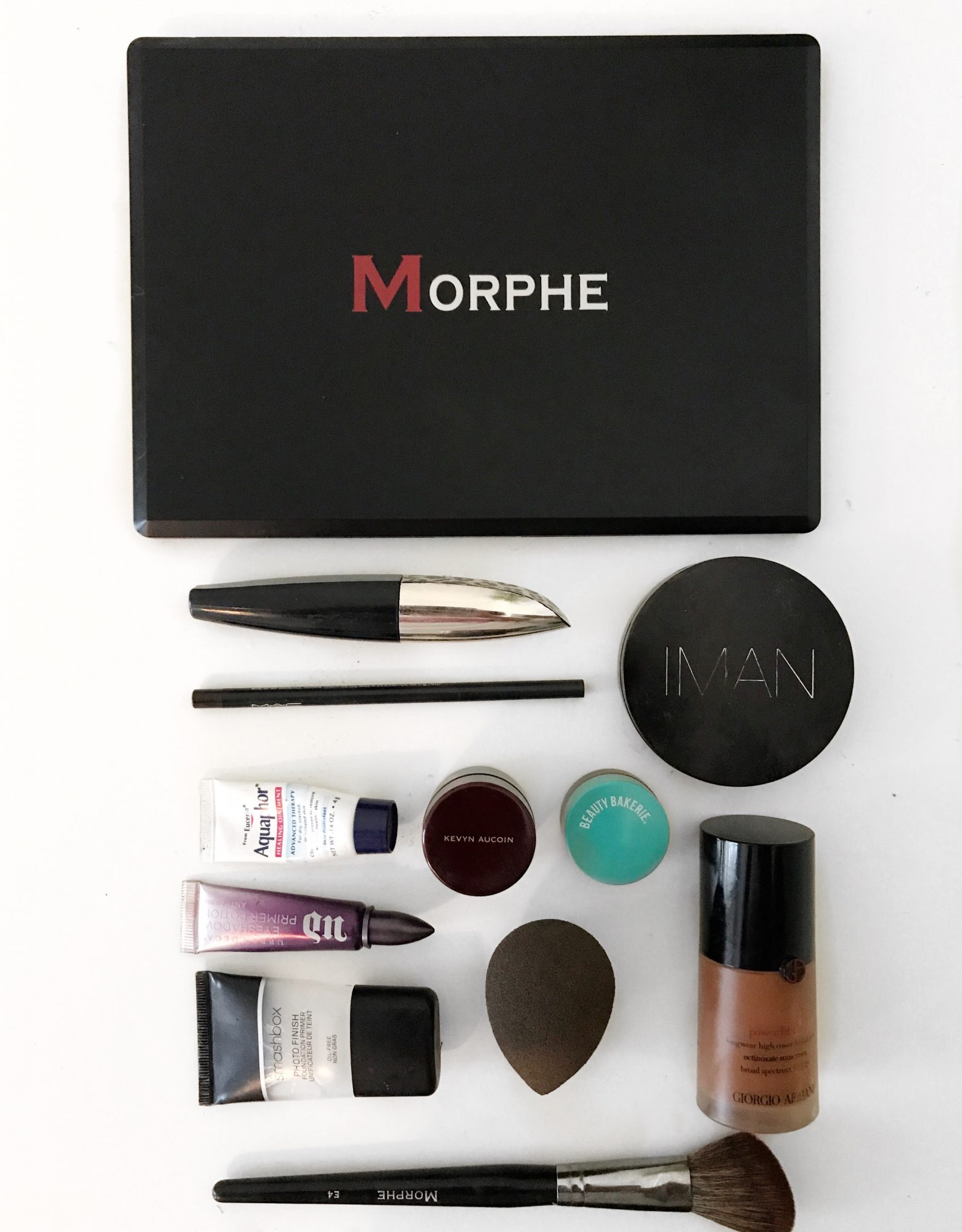 As for things I'm testing and reviewing, I've been using the Armani Power Fabric foundation, $64, (so far so good), the Kevyn Aucoin Sensual Skin Enhancer, $48 (covers like a dream), Beauty Bakerie gel eyeliner ($16), Morphe 350M Palette ($22.99), and the L'Oréal Voluminous Feline mascara ($7.99). It's my new fave, but it took me a while to get used to the wand.
I'd describe my makeup style as mostly focused on my skin. I prefer full coverage to cover my dark circles, acne scars, and hyperpigmentation. I do a version of highlighting and contouring every day, but it's very subtle. My concealer is only one shade lighter than my foundation and I don't go too dark on the contour either. I like sculpting my big ol' pumpkin head, but never to the point that I don't look like myself. I have become one with the fact that I probably wear too much eyeliner in the daytime and I've grown to love my big eyes, so I now enjoy playing them up even further. Hey, why not?!
9:45 a.m.: All done!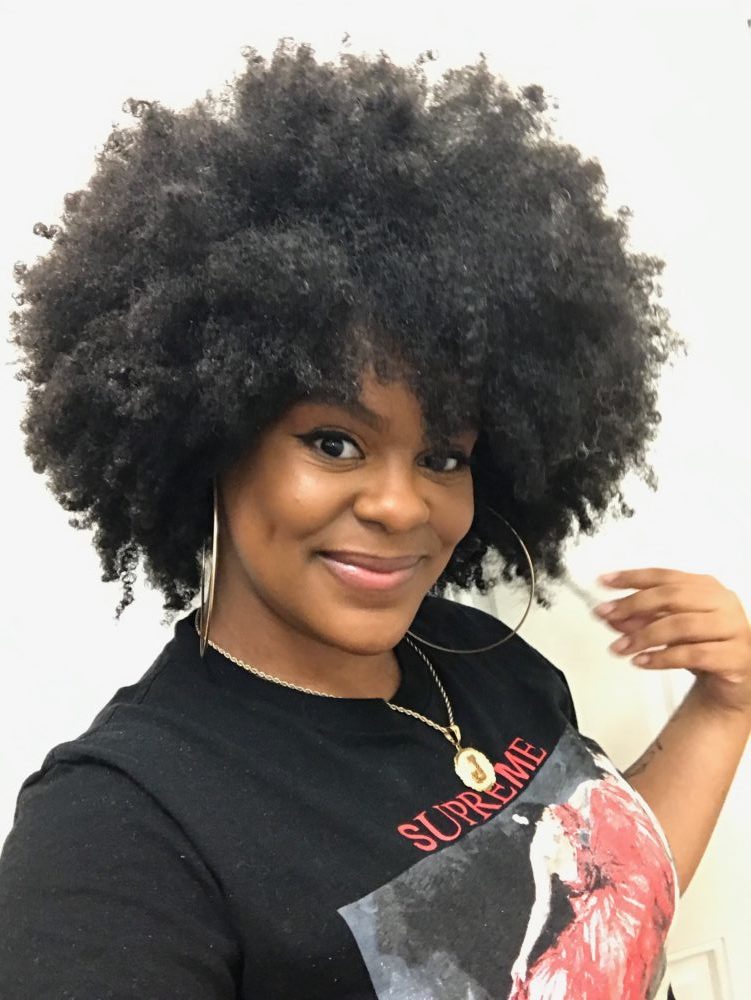 Then I usually waste a little time deciding whether to go with a 'fro…
…or a poof
I try not to overdo it on hair products. I apply conditioner to my hair at night so in the morning all I need is my afro pik.
I'm pretty sure my routine sounds intense but I promise it's not. After it's all said and done, I still have enough time to lip sync for my life with Sheila E.
1:30 p.m.: Mid-Day Touch-Ups
The only touch-ups I do to my makeup is dabbing a BeautyBlender ($20) under my eyes to fix any concealer creases. I've yet to meet a concealer that absolutely doesn't crease on me during the day, even if I set it with powder (which I'm not really a fan of, tbh). My Smashbox primer keeps everything pretty much in place, so aside from those pesky concealer creases, I can get through a day of writing, running errands, and more lip syncing as I maneuver through LA traffic.
6:30 p.m.: The Turn Down
As soon as I get home, I take off my makeup. My apartment is all white so I like to be makeup-free before I hit my bed or couch to watch TV. I use Neutrogena makeup remover wipes ($4.49) to take off my makeup, then wash my face with CeraVe, followed by tea tree oil, and rose water. Of all the eye creams I've tried, plain ol' Aquaphor works the best under my eyes. I have a few masks I'm supposed to be reviewing but I'll save them for another night.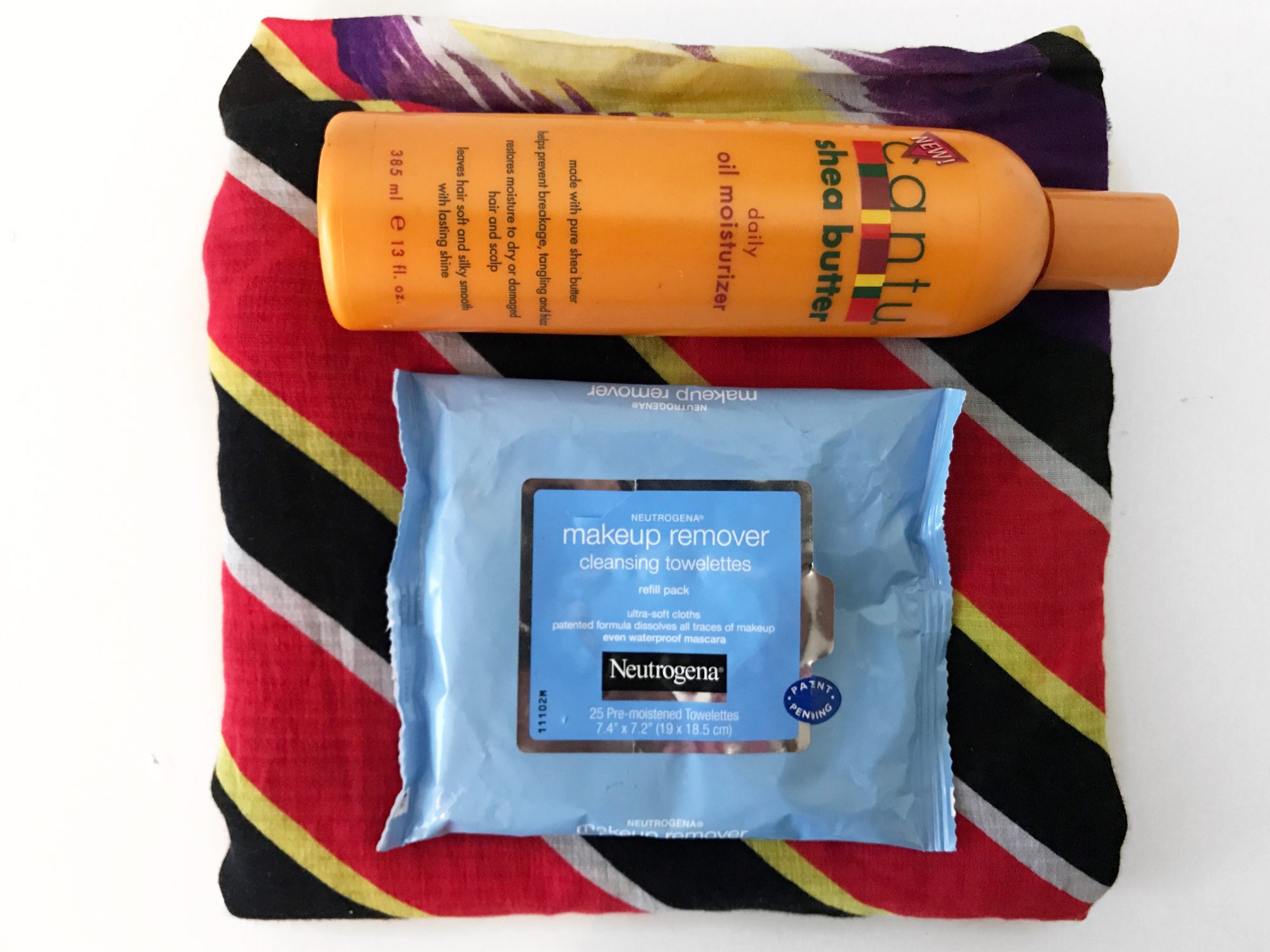 I rake a little Cantu Daily Oil moisturizer ($4.97) through my hair then pineapple it and put it in a scarf. I'm ending my long day with a mixture of the CeraVe moisturizer and almond oil. It's a thick concoction my dry skin loves.
Now it's time for binge-watching Law & Order, Doug, RuPaul's Drag Race, or Friends.
That's all folks!
Indulge in beauty-themed voyeurism by reading all of our past Beauty Files here.