This new brand of false eyelashes from Japan will revolutionize your eyelash game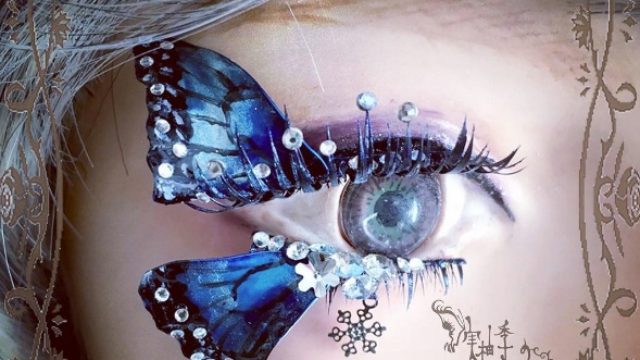 With the onslaught of colored mascaras, lash extensions, and even spider lashes, we're all for changing up your look with a quick swipe of mascara these days. But this Japanese artist makes false lashes that are absolutely unreal, and they are truly fine art for your face…trust us.
These eyelashes will make you do a double take, and we think they deserve to be in a museum, if we're being honest.
Japanese lash artist Miyuki creates these over-the-top lashes for some very lucky lash lovers in Japan, but these aren't your average false lashes. Oh no, these "deco lashes" are truly a work of art in and of themselves.
We know, it looks as if Miyuki's Instagram shots are from a painting, but they are on a real person, and they are incredible. Miyuki's lashes are bedazzled, beaded, beautiful works of art, and we're just gonna call it now: #LASHGOALS.
Currently, you can purchase these beauties on the Japanese site Village Vanguard, and they cost between 3,240 yen (about $30 USD) and 9,720 yen, (about $90 USD). Miyuki's designs are gorgeous, and you can get custom lashes resembling anything from flowers to butterflies and even strawberries. Check out some of Miyuki's most gorgeous eyelash art…you'll be looking up flights to Japan ASAP.
These glittery, gorgeous eyelashes are unlike anything we've ever seen before, and they're obviously a hit in Miyuki's native Tokyo. We're just hoping Miyuki can bring that glam gorgeousness our way stateside, please. These lashes are next level, and we need them NOW.