Janet Mock just made television history, and here's what you need to know about this rad lady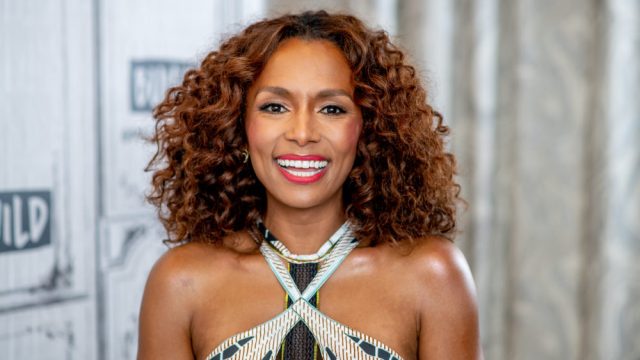 On July 8th, Janet Mock made her directorial debut with the latest episode of Pose, and made history in the process. With the sixth episode of the FX series, titled "Love Is the Message," Mock became the first trans woman of color ever to write and direct an episode of television.
Ahead of her episode's premiere, Mock took to Instagram to share a set photo from her directorial debut. The activist and author, who serves as a producer on the Ryan Murphy series, opened up about the experience. She began the photo's caption by revealing how nervous she was at first to take the role — which remains disproportionately white and male.
She wrote, "This was taken under the amber light of the #posefx ballroom on my first shoot as a Director. Don't let the smile fool you: I was nervous af about doing something I had never done before, a job that seemed to be reserved for white men, a position in the industry that rarely invited women and/or people of color to sit in the director's chair."
Mock then went on to share the beautifully self-affirming words she told herself to rid herself of self-doubt ahead of the shoot.
"You wrote this script. You know these characters. You helped shape them, make them, move them," she wrote. "You got this, and your whole life as a black trans girl with all your experiences have prepared you for so many unknowns — from being the first in your family to go to college, to get a masters, to work as a journalist, to leave the safety of telling others stories to actually tell your own story, to write two memoirs that centered #girlslikeus, to be the first trans woman of color to be hired in a writer's room...and yes, the first to write and direct an episode of television. You can do this, will do this and are deserving."
Mock may have been full of nerves ahead of her historical writing and directorial debut, but now she should be feeling on top of the world, as her episode has been widely praised — and rightfully so.
Pose, which debuted in June and follows New York City ballroom subculture in the late '80s, has been met with near universal acclaim. The series has been groundbreaking for trans representation on-screen — which, as we know too well, has been disappointingly abysmal — making television history for having the largest cast of transgender actors as series regulars.
Murphy, who co-wrote the episode with Mock, took to Twitter to praise the director for her masterful work.
false
Pose continues to set the bar for representation and with her fantastic directorial debut, we seriously cannot wait to see what Mock directs next.