Janelle Monáe officially came out as pansexual in this badass statement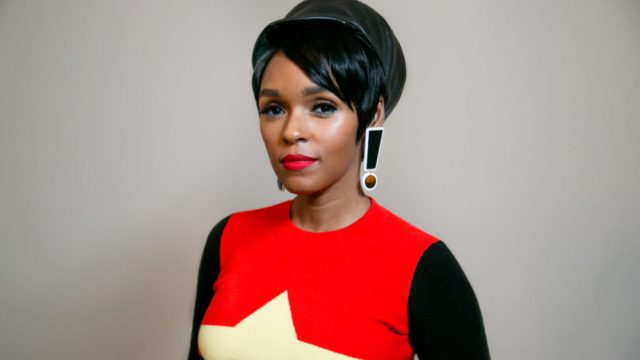 After years of working to keep her personal life out of the spotlight, Janelle Monáe is opening up in 2018. At the 2018 Grammy Awards, she gave a rousing speech in support of the #MeToo and Time's Up movements, expressing solidarity with women everywhere. And now, the artist is speaking up about her sexuality. In an interview with Rolling Stone published April 26th, Monáe discussed her identity for the first time, revealing that she is pansexual.
Monáe has long avoided talking about her personal life. For many years, she has brushed off questions about her dating life by saying "I only date androids," in a nod to her robotic alter-ego, Cindi Mayweather. But lately, her music has alluded to her identity. Her latest song, "Pynk," for example, is a not-so-subtle ode to queer womanhood. But for the singer to verbally confirm her identity in an interview is a first, and the way she took ownership of her pansexuality was nothing short of badass.
"Being a queer black woman in America," she told Rolling Stone, "someone who has been in relationships with both men and women – I consider myself to be a free-ass motherfucker."
The singer told the magazine that she referred to herself as bisexual at first and then later broadened her identity to pansexual once she learned about the term, which expands attraction to include non-binary gender identities.
Monáe also said that her queer identity has long been embedded in her songs. She cited the examples of "Mushrooms & Roses" and "Q.U.E.E.N," which both refer to female love interests, and she even added that "Q.U.E.E.N" was originally titled "Q.U.E.E.R." The singer concluded her interview with an empowering statement to LGBTQ youth.
"I want young girls, young boys, nonbinary, gay, straight, queer people who are having a hard time dealing with their sexuality, dealing with feeling ostracized or bullied for just being their unique selves, to know that I see you," she told the Rolling Stone. "This album is for you. Be proud."
In choosing to share her identity with the world, Monáe has freed herself and shown others that it's okay to do the same. We hope that she will continue to celebrate her sexuality in her work, and we'll be listening.