Janelle Monáe is Asking the World to "Give Black Women Peace"
The artist and actor talks about her new film Antebellum, police brutality, and the importance of voting.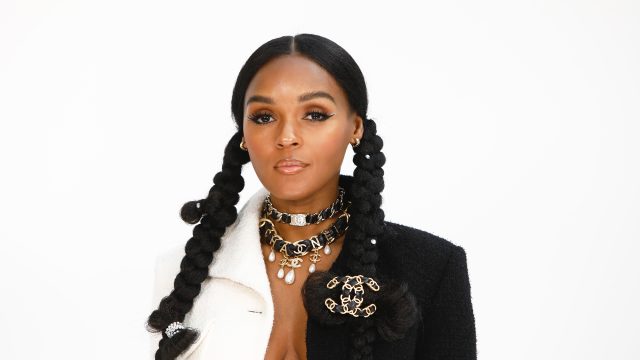 Janelle Monáe is over the "strong Black woman" trope. Although she's played impressive figures like the first Black woman engineer in Hidden Figures, Harriet Tubman's accomplice in Harriet, and, most recently, a successful author in the horror film Antebellum, the actor's end goal isn't to prove how powerful Black women are—it's to get to a point where Black women don't have to prove anything at all.
"I don't think it should be Black women's jobs to be superheroes," Monáe said in a September Zoom interview with :BLACKPRINT, Meredith Corporation's Black Employee Resource Group. Though the artist considers herself "someone who lives outside the binary" and has no particular pronoun preference, she said she's "always standing with Black women," especially right now. Over the past several months, Black women have been asked to take on an overwhelming load, becoming involuntary educators on systemic racism—all while more Black lives, like Breonna Taylor and Oluwatoyin Salau, have been taken by police brutality and racial violence.
"The violence and the silencing that has been happening to Black girls and Black women needs to continue to be talked about and checked," Monáe said. However, she doesn't want the responsibility of that task to fall solely on Black women.
Monáe said her role in Antebellum—in which she plays a modern-day scholar who gets trapped in a horrifying reality of having to confront the racist past, present, and future—is her way of letting people know, "Hey, this is what it's like to be a black woman trying to dismantle white supremacy every single day." The film, which is available now on-demand, features violent depictions of slavery in the antebellum period, and Monáe warned that "it's going to trigger." She understands, she added, if some Black viewers choose to opt out.
For a non-Black audience, however, she had another message. "If you're benefiting from the patriarchy and benefiting from racist policies, my hope is that after you watch this film—and it shouldn't even take this film for you to see that—you need to be a better supporter and accomplice to black women," Monáe said.
While the film is timely and ever-important ("We're in the middle of a revolution right now," as Monáe noted), the artist and activist said she wants to someday have more freedom for herself and other Black people to make movies that aren't necessarily tied to race and racial trauma.
"We want to make quiet rom-coms. We want to make indie films. We want to make big blockbuster, science-fiction trilogy films," she said. "We want to see ourselves in the future more. We want to make documentaries. I'm ready for us to not always have to feel so heavy, and put so much pressure on ourselves to create art that just reflects our whole existence."
Currently, though, with constant devastation on the news, the climate has been unavoidably heavy—and Monáe revealed that balancing her mental health has been "a tight rope." She explained, "I have to balance out the amount of heaviness with some levity, some lightness, something that brings me joy. And I think that looks different depending on where I am because we're fighting COVID, fighting police brutality. We're fighting so many isms, and just trying to live a free, carefree and purposeful life."
To get to that point, though, Monáe knows there's more work ahead, which is why she stressed the importance of voting in the upcoming election.
"What we do now will determine what kind of future we have," she said. "The decisions we make around voting absolutely will play into dismantling those racist policies. Right now, we don't even have an ear that is listening to us. And not just with voting, but the amount of pressure that we're going to be putting on even the police is important. So, I think we got a lot more to fight for."
Monáe shared that she will be casting her vote for Joe Biden and Kamala Harris. While "it's not like they're going to solve everything overnight," she explained, "I'm ready to hold them accountable. I'm ready to show up with a list of demands. I'm ready to work with some organizers who have really been doing the work, and say, 'Hey, if you want our vote, this is what we want.'"
If you want to show up with Monáe, check this comprehensive guide to voting in the 2020 election and make sure you're prepared for November 3rd.