This Old Hollywood behind-the-scenes photo from "Jane the Virgin" is too attractive for words
Is anyone else suffering from Jane the Virgin withdrawal or is it just us? Just when we thought we couldn't go another day without seeing her back in action as Jane Villanueva, Gina Rodriguez posted a photo to her Instagram featuring one of her main love interests and baby-daddy, Rafael (played by Justin Baldoni).
The '50s themed photo, in which Rodriguez likens Baldoni and herself to Grace Kelly and Cary Grant with their Old Hollywood get-up, features an ominous hashtag caption, "#YouThoughtYouKnewYouHaveNoIdea."
Considering how the last season ended, the pic is either a massive spoiler or just a little tease to keeping fans guessing!
Check out the pic below:
While we're thrilled to have this behind-the-scenes photo, we have so many questions! What does the hashtag mean? Could Jane and Rafael be getting back together? Is there going to be a throwback episode? How is The Marbella still functioning? IS MICHAEL DEAD?
After a whirlwind of a second season, we can only imagine what season three is going to be like! Of the upcoming season, which premieres on October 17th, series creator Jennie Snyder Urman told Entertainment Weekly,
"This year's theme is about growing up in a real, deeper way. All of our characters are taking major steps forward.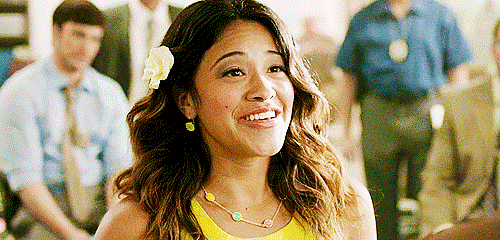 Additionally, Urman says that Season 3 will delve into the show's history, including Jane and Michael's relationship before the show started. While we've gotten glimpses of how two-thirds of the show's greatest love triangle began dating. Urman says,
"You're going to be learning a lot more history than you knew originally…You'll figure out how the past impacts the present.
Now we're really counting down the days until Jane the Virgin returns! Until then, we'll be scouring the casts' Instagram accounts for more sneak peaks.