"Jane the Virgin" paid the sweetest tribute to Michael, and we're crying all over again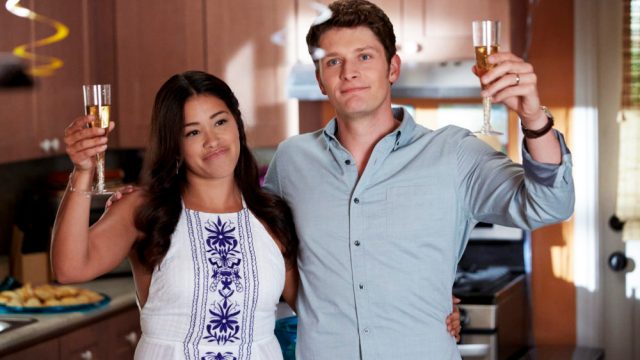 Warning! Spoilers from Jane the Virgin Season 4, Episode 4, "Chapter Sixty-Eight," lie ahead. Read on (and cry) at your own risk…
Jane the Virgin recognized the late Michael once again, and the tribute has us basically crying our faces off — but like, we're pretty confident that's always going to be the case. Why? Well, because Michael was perfect. He was an amazing partner to Jane, stepfather to Mateo, and BFF to Rogelio.
For our purposes we're going to focus on the latter, what could possibly be TV's greatest bromance. (Yes, I realize and agree that Stranger Things' Steve and Dustin are total gems. DON'T @ ME.)
In "Chapter Sixty-Eight," Rogelio and Darci struggle with picking a name for their newborn girl. But Rogelio takes a cue from "Wise Owl" Alba, who tells him: "A name isn't something that should be chosen at random, Rogelio. It should be something that has special meaning to you and represents a part of who you are." Key words: SPECIAL MEANING.
Eventually, Rogelio and Darci compromise. Rogelio tells Darci that he'll agree to Amada — the name suggested by Esteban, Darci's new love and Rogelio's arch-nemesis — if he can pick the middle name. Turns out Darci doesn't even like Amada as a name anymore, but inspiration soon strikes and the pair pick Baby for their, well, baby. Rogelio, then, picks Michaelina as the middle name.
MICHAELINA, PEOPLE.
Just, so many tears are flowing right now.
Later, Rogelio and Darci tell the family the full name they selected.
"Darci and I would like to introduce you all to the newest member of our familia — Baby Michaelina De La Vega Factor," Rogelio says, and Jane asks if Michaelina is in honor of Michael. "He was my best friend," Rogelio responds.
BYE, CRYING FOREVER.
And we aren't alone.
false
Look, while we *still* might not want to accept that Michael is gone, we do love when Jane the Virgin pays tribute to him —and this is a perfect example.